Eligibility for Financial Aid
Admissions Status
If you are a new student you can apply for aid before you have started the admissions process; however, you must be admitted to receive aid. Additionally, once you complete a degree, if you want to continue enrollment and continue receiving financial aid, you must be admitted to a new degree or certificate program.
Citizenship
You must either be a U.S. citizen or an eligible non-citizen to be eligible for federal student financial aid. Generally, you are an eligible non-citizen if you are:
A U.S. permanent resident and you have an Alien Registration Receipt card (I-551).
A conditional permanent resident (I-551C).
Any other eligible non-citizen with an Arrival-Departure record (I-94) from the Department of Homeland Security showing any of the following designations: "Refugee", "Asylum Granted", "Parole" (I-94 confirms paroled for a minimum of one year and status has not expired), or "Cuban-Haitian Entrant."
If you are neither a citizen nor an eligible non-citizen, you are not eligible for federal student aid. However, you may be eligible for some scholarships or non-federal student loans.
High School Diploma or its equivalent
In order to be eligible for federal financial aid, all students must have a high school diploma, GED, or an academic transcript that shows completion of at least a two year program that is acceptable for full credit toward a bachelor's degree (72 quarter credits).
Default or Repayment Status
If you are in default on a Federal Stafford/Direct or Perkins student loan you will not be eligible for federal aid. You may also not be eligible for other types of aid.
If you owe repayments on federal student grants you must repay in full or make satisfactory arrangements to repay before you regain eligibility.
Enrollment
Generally, you must maintain at least half time enrollment each term to be eligible for federal aid.  For more information on enrollment requirements, see our Disbursement Policy page.
Estimate Your Aid
If you're not ready to apply for federal student aid, but you'd like to estimate your aid, try FAFSA4caster (en español).
FAFSA4caster gives you a free early estimate of your eligibility for federal student aid. This information helps families plan ahead for college. You must use the Free Application for Federal Student Aid (FAFSA®) form to apply for aid once you've decided to apply for admission and attend college.
Need to know the out-of-pocket cost of attending your school of choice? Try the FAFSA4caster:
bit.ly/2L3cRlN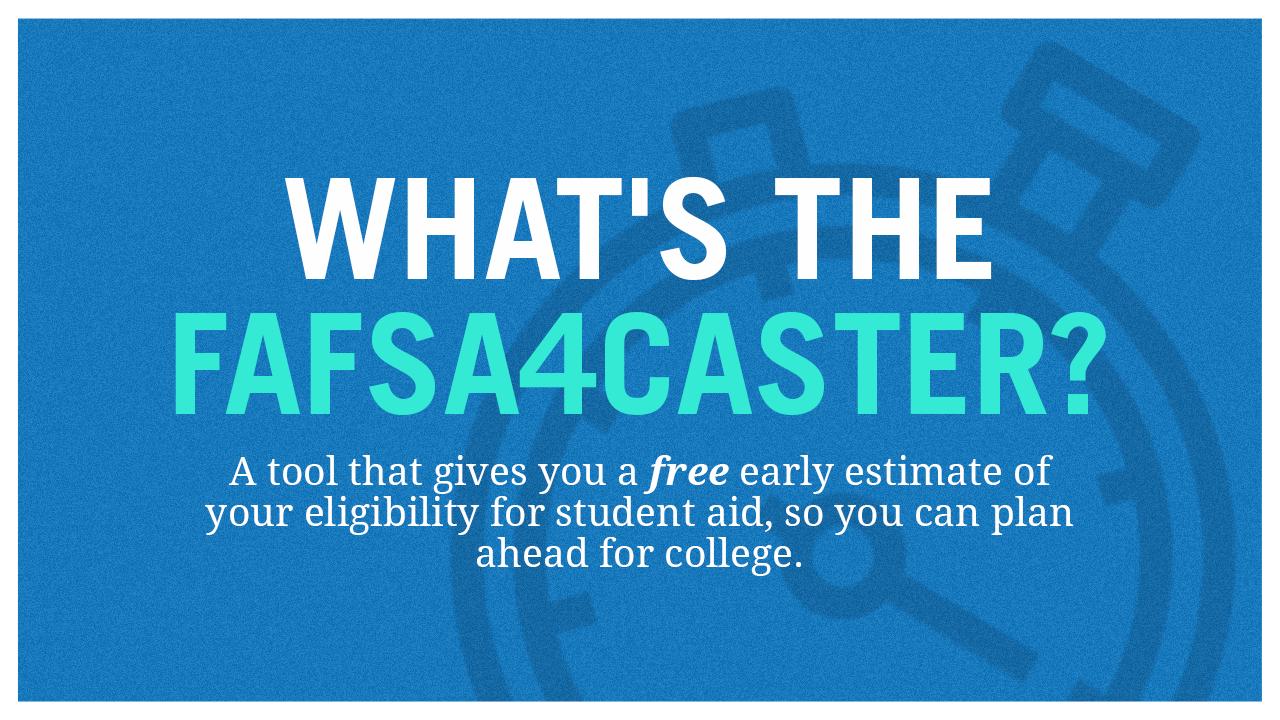 Satisfactory Academic Progress
To remain eligible for federal aid, you must maintain Satisfactory Academic Progress throughout your academic career at EOU.  For complete information, please see our Satisfactory Academic Progress Policy page.
Selective Service
Who must register for Selective Service?
Male students between the ages of 18-25 must be registered with the Selective Service to be considered for financial aid. This requirement covers both citizens of the United States and most other men residing in the U.S. If you need to register, you can do so HERE.
A man who is in the United States as a lawful non-immigrant isn't required to register as long as he maintains that status.
Drug Convictions
If you have been convicted of possessing or selling illegal drugs, you may not be eligible to receive federal student aid. When completing the FAFSA, please follow the instructions pertaining to Question 31 (Drug Convictions).