FAQ
Frequently Asked Questions
When should I begin planning for college?
We recommend that students begin seriously thinking about college when they enter the middle school grades (sixth through eighth grade).
Begin to discover your college and financial aid options today with this workbook, My Future, My Way: First Steps Toward College, published by the Department of Education. It is never too early to plan for college.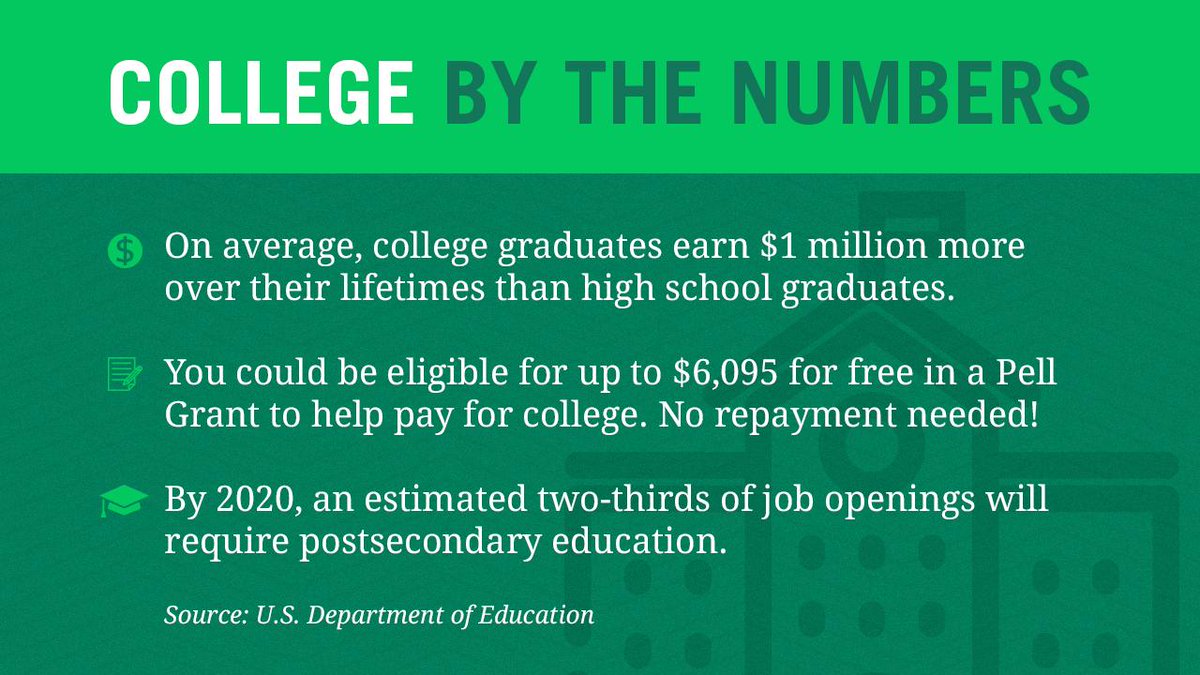 Federal Student Aid: I'm Going: Eric (College.gov)

If you're not ready to apply for federal student aid, but you'd like to estimate your aid, try FAFSA4caster (en español).
FAFSA4caster gives you a free early estimate of your eligibility for federal student aid. This information helps families plan ahead for college. You must use the Free Application for Federal Student Aid (FAFSA®) form to apply for aid once you've decided to apply for admission and attend college.
---
Is There a Deadline to Apply For Financial Aid?
Yes.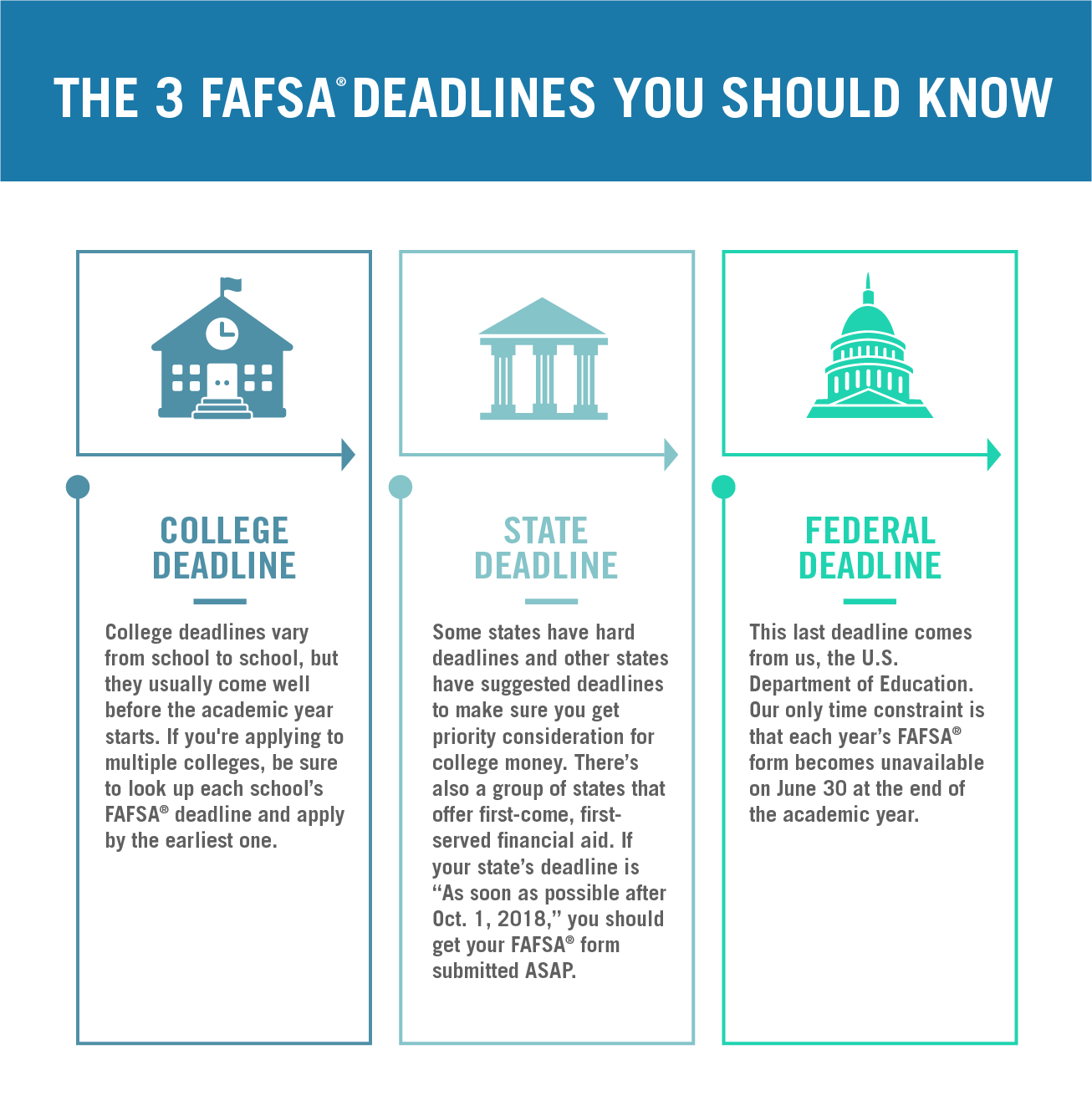 Each financial aid award year ends in June.  The FAFSA application deadline for an award year is the end of June.  For example, Spring term 2019 is the last term of the 2018-19 award year.  The absolute FAFSA deadline is the end of June of the FAFSA award year; however, our spring term ends before June 30th.  Our advice is: apply for financial aid well before you want to begin your program of study.
---
Can I complete a FAFSA form on my phone?
Want to complete a FAFSA form on your phone? Federal Student Aid has an app for that! Check out the new features of the new myStudentAid mobile app, including:
Filling out a FAFSA form
Importing tax info using the IRS Data Retrieval Tool
Comparing college costs
Checking loan and grant history
Download the myStudentAid app today:
iOS: itunes.apple.com/app/apple-st…
Android: play.google.com/store/apps/de…
---
May I receive financial aid as a part time student?
Yes, students generally must attendance at least half time to receive federal financial aid.  Some undergraduate students may demonstrate a very high need and be eligible for a less than half time Pell Grant.  Students awarded federal loans must attend at least half time to receive their loans.
---
If I attend part time, will my aid be reduced?
Students receiving Federal Pell Grants and Oregon Opportunity Grants will have those award amounts revised to reflect part time attendance.  Depending upon a student's total aid offer, loan amounts may be the same for full or part time attendance.
---
How can I get the most out of my college experience?
8 Ways to Get the Most Out of Your College Experience:
Everyone's college experience is unique—and probably not quite what they were expecting, but here are some tried and true tips on how to get through it.
---
What is the income cut off to receive financial aid?
There is not one income cut off for financial aid.  Undergraduate students with low Expected Family Contributions (EFCs) are eligible for Pell Grant and Oregon Opportunity Grant and other federal aid programs.  Students with higher EFCs may not be offered grant awards.  There are several factors that determine a student's EFC including:  student and parent income, family size, number of students in college, and parent assets. If you do not understand how your EFC reflects your FAFSA information, please call our office and we will help you.
---
How is the information on my FAFSA used to determine my EFC?
A student's Expected Family Contribution (EFC) is calculated using a formula that determines the family's ability to contribute towards a student's education.  The formula is part of the Higher Education Act (HEA as amended).   For dependent aid applicants, the formula looks at student and parent taxable and untaxed income, taxes paid, family size, number of students in college, and assets. Generally, students from low income families have low EFCs and students from higher income families have higher EFCs.
---
What is the Best Tip About Going to College?
---
Do I have to reapply for financial aid every year?
Yes!  You must complete a FASFA for each year you attend and want to receive financial aid.  The FAFSA processing year begins October 1st each year.
---
My parents don't have their taxes done yet; do I have to wait until they complete their taxes to apply for financial aid?
No!  You can apply for financial aid using the FAFSA on the Web and provide an estimate of your federal income and your parents federal income.  If you FAFSA is selected for federal verification, your financial aid offer will not be final until EOU has received all requested documents and completed the verification process.
---
What is Verification?  Why do I have to submit copies of my federal tax form and my parent's federal tax form to your office?
Verification is a process that selects some student aid application records for a review of income, taxes paid, and household size information.  Colleges do not select aid application records, the US Department of Education's FAFSA processor selects application records for verification.  If an application record is selected, the college must follow up with a request for documents necessary to complete the verification file review.  Students (and parents of dependent aid applicants) must submit the documents.  Financial aid offers will not be finalized and no aid will disburse until verification is complete.
---
I applied for aid and now my parent's situation or my situation has changed–we don't have the ability to contribute to my education.  What can we do?
Sometimes, families experience  a change that affects their financial stability after the student has submitted a FAFSA.  Common circumstances that impact the family's or student's ability to contribute toward educational expenses are:  parent loss of employment, divorce, death of a parent, independent student's loss of employment, divorce, death of a spouse.  If you have extraordinary circumstances, the financial aid office can reevaluate your financial aid eligibility.  See the Professional Judgment Form on our forms webpage.
---
What is the Biggest Myth About College?
---
I live on my own and support myself. Must I include my parents' information?
If you are considered a dependent student for FAFSA® purposes, you will need to provide information about your legal parent(s) on the application. A legal parent is your biological or adoptive parent, or your legal parent as determined by the state (for example, if the parent is listed on your birth certificate). If you have a stepparent currently married to your legal parent, you generally also must provide information about him or her.
If you're considered a "dependent" student, you must
include your parent's information
on your FAFSA form: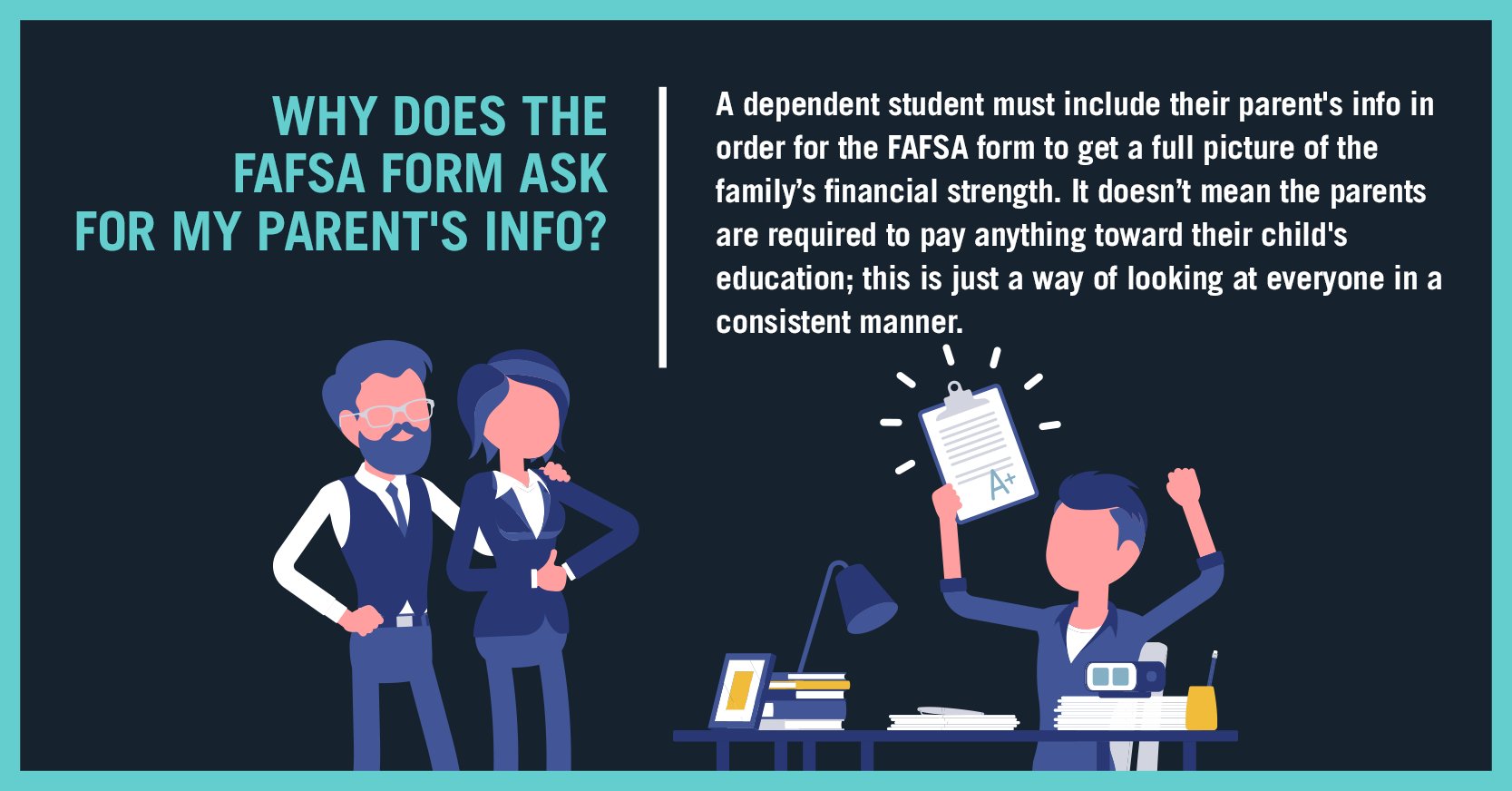 — Federal Student Aid (@FAFSA)
---
What Is the Most Surprising Thing About College?
---
I received my financial aid award and it does not cover all of my costs.  What can I do?
If you are an undergraduate student, your portion of your financial aid award may not cover all of your costs.  We offer a PLUS loan to all dependent aid applicants.  If a parent borrows in the PLUS loan program, the loan can cover the difference between the cost of education and the student's aid.  If you parent applies for the PLUS loan and he or she is unable to qualify, we may be able to offer you additional Unsubsidized Stafford loan funds.
There are non-federal, alternative loan programs.  These programs are credit score based and usually will require a co-signer.  Alternative loans also cover the difference between the cost of education and other financial aid.
---
What is year-round Pell Grant?
The U.S. Department of Education Appropriations Act, 2017, allows a student to receive Federal Pell grant funds for up to 150% of the student's Pell Grant Scheduled Award (PGSA) for an award year. For example, if a student's PGSA was $3,000, he or she now has the potential to be able to receive up to $4,500 ($3000 x 150%) over Summer, Fall, Winter, and Spring terms (up to 33.3333% per term).
---
How do I get year-round Pell Grant funds?
You must complete the Free Application for Federal Student Aid (FAFSA).  If you are otherwise eligible for a Pell Grant and have not exceeded your Lifetime Eligibility Used (LEU), and if you are enrolled at least half-time (at least 6 credits) in the term in which you exceed 100% of your PGSA, you will automatically receive additional Pell Grant funds.  For most students this will be Spring term, if they also attended Summer, Fall, and Winter terms.
---
Is College Harder Than High School?
TIP: College costs include more than tuition and room and board.
Here are some common costs
to be aware of: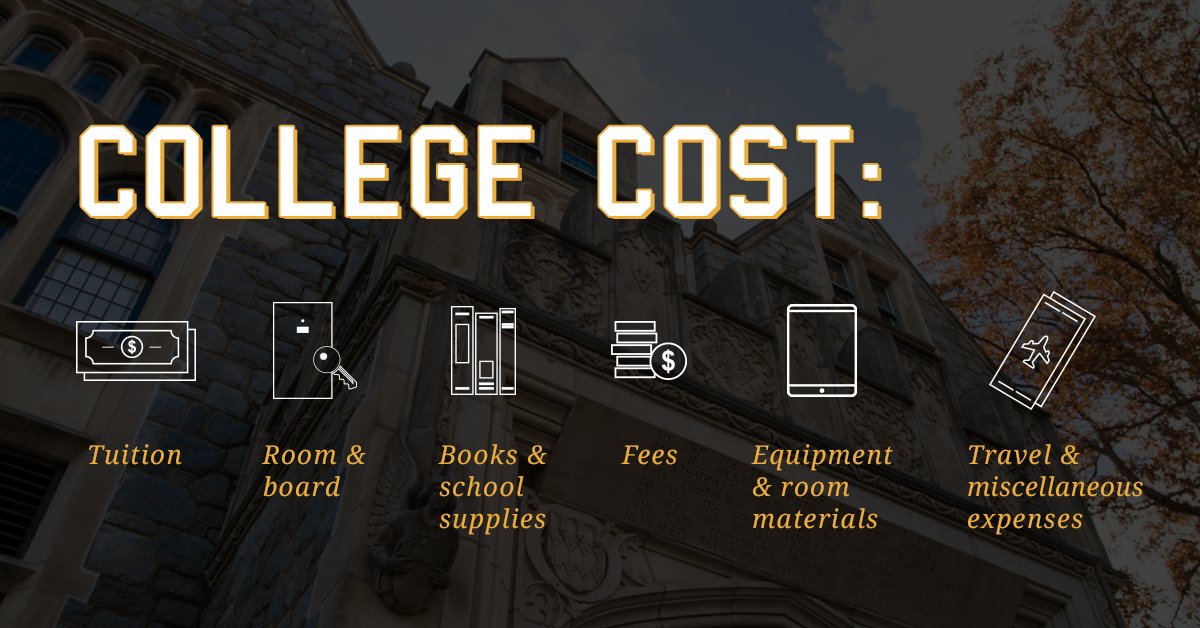 — Federal Student Aid (@FAFSA)
---
What do I do if I cannot recover my FSA ID username or reset my password myself?
If you haven't provided and verified your mobile phone number or email address in your FSA ID account, and you can't remember the answers to your challenge questions, you will have to contact the Federal Student Aid Information Center by calling 1-800-4-FED-AID (1-800-433-3243; TTY for the deaf or hard of hearing 1-800-437-0833). An agent will walk you through self-service options. If that does not resolve the situation, you will go through the FSA ID "verification" process. You'll send in copies of identification, and the email address on your account will reset to one you can access. This process takes 7–10 days from the point at which you send in your documentation.
Once you regain access to your account, we strongly encourage you to provide and verify your email address and phone number so that in the future you can retrieve your username or password on your own.
It's important that you do not attempt to create a new FSA ID if you have been locked out of your account.

You can read more and find help about the FSA ID on studentaid.ed.gov.
---
How could a deferment cause my loan balance to increase?
Whether your loan balance increases depends on the type of federal student loans you have, whether you are requesting a deferment or a forbearance, and whether you make any required interest payments during this time.
With deferment, the federal government pays the interest that is charged during a deferment period for certain types of federal student loans. For those loans that the federal government does not pay the interest charges, such as unsubsidized loans and PLUS loans, interest continues to accrue (accumulate) during deferment. Any unpaid interest that accrues during your deferment period is added to your loan balance. This is called capitalization.
With forbearance, the federal government does not pay interest charges for any type of federal student loan—ever. So, while you can stop making payments or reduce your monthly payment amount for up to 12 months, interest continues to be charged on all of your federal student loans during a forbearance period. Again, any unpaid interest that accrues during this time will be added to your loan balance.
I would like to know more. Where can I get detailed answers for questions that I have?
Webinars
Federal Student Aid regularly hosts webinars for students, parents, student loan borrowers, or college access professionals. You can submit questions during the webinar and their team will answer your questions during the event.
Keep an eye on StudentAid.gov/events for webinars and other events intended for students, parents, and borrowers; and watch the Get Training page on the Financial Aid Toolkit for Counselors (FinancialAidToolkit.ed.gov/training) to find webinars intended to enhance your professional development.
To take advantage of these webinars, sign up today!
---
Archived Webinars
If you are interested in these webinars but are not available at the scheduled time, you'll be able to view recorded versions of the webinars listed above at StudentAid.gov/resources#webinars and at FinancialAidToolkit.ed.gov/resources.
---
Twitter
---
Other Questions
The Pell Grant is limited (for everyone) to 600% of an annual award. We call this your LEU or lifetime eligibility used. Each academic year (AY) your Pell Grant award is calculated based on your expected family contribution (EFC). The EFC determines the dollar amount. For 2019-20, the maximum Pell Grant was increased to $6,195 (for a zero EFC). However, when your Pell Grant is disbursed to your student account, the Department of Education (ED) tracks it as a percent used, not just as dollars paid. The Pell Grant is prorated every disbursement based on your attendance for that payment period (term or semester). If you were to attend full time for a full academic year, 100% of your LEU would be used in that AY. If you didn't attend the full year, or if you attended at less than full time, you would use less than 100% of your scheduled award. Alternatively, if you also took summer classes, you could use up to 150% of your scheduled award, again dependent upon your school and enrollment level. All of those percentages add up for all of the years you received a Pell Grant at any institution, regardless of the dollar amount that was paid. To date you have used 510.236% of your maximum 600% LEU.
To determine your remaining eligibility, we subtract your LEU from the 600% maximum. That equals 89.764%. Then we multiply that remaining LEU by your Pell Grant as calculated by your EFC (i.e. $6,195 for your 0 EFC). $6,195 x .89764 = $5,560 (rounded down — you can't exceed 600%). So for 2019-20, you have at most $5,560 of Pell Grant dollars and 89.764% remaining. Each term, you are still eligible for up to 100% of that term's award (33.3333% of a year). So, if you will be full time Summer term, you will receive a full 33.3333% of that $6,195 EFC calculated Pell Grant, or $2,065. The same would go for Fall term, assuming full time attendance. If you take fewer than 12 credits, your award will be prorated at 75% for 9-11 credits, 50% for 6-8 credits, and 25% for 1-5 credits. So, after two terms of full time attendance we would subtract what you had been paid from your individual maximum of $5,560 (i.e. $5,560 – $2,065 * 2 = $1,430) to determine your remaining award. Now if you were to continue at full time Winter term, you would receive only $1,430, because you do not have $2,065 remaining eligibility. We can only disburse the lesser of your limits (term maximum based on EFC and enrollment or LEU). You would have zero Pell Grant Spring term after receiving the remaining $1,430 Winter term. If you want your Pell Grant to last longer, you can reduce your enrollment level, but it will not increase your dollar amount for this academic year. If you have remaining LEU after this AY, you may see a dollar increase on that LEU for future academic years, if your EFC remains at zero and Congress appropriates additional Pell Grant funding. However, your LEU still cannot exceed 600%.
If you wish to decline your Pell Grant this year in hopes of getting more dollars out of your remaining LEU, you can do so by specifically writing a statement that meets the following requirement:
To decline Pell Grant funds, a student must deliver to the school a signed, written statement clearly indicating that the student is declining Pell Grant funds for which he or she is otherwise eligible and that the student understands that those funds may not be available once the award year is over.
There are other reasons why you would not be eligible for a Pell Grant besides EFC, such as having graduated and having a bachelor's degree, so consider carefully before declining your Pell Grant.
Now what your community college told you about being eligible for additional funding based on a four year program (i.e. bachelor's degree) vs. a two year program is true, but out of context. You are eligible for federal aid up to 150% of your published program length. So for an associate's degree, you could get a Pell Grant (and other federal aid) for up to 135 credits at a quarter school. And then if you continued at a university, you could get aid up to 270 credits, which includes the credits transferred in from your associate's degree. However, that is still limited by any other limiting factors, such as LEU or aggregate loan limits. It is important to consider all factors and not narrow your focus too much on one question and answer pair. Make sure that your specific questions allow for consideration of the big picture.
I didn't go too much into how less than full time enrollment affects your Pell Grant LEU. However, if you multiply the enrollment level by the term or semester usage, you can figure out the LEU (e.g. three quarter time (75%) for a term (33.3333%) equals 25% used (0.75 x 33.3333%). You can do the math to figure out how to make your 89.764% last the whole year, if you want to.
As to your Oregon Opportunity Grant (OOG) eligibility, it also is lifetime limited. The maximum number of terms you can receive OOG is limited to 12 full time equivalent (FTE) terms. That means that you could have up to 24 terms at half time or a lesser amount with a combination of full and part time attendance. OOG pays only either full or half. There is no separate three quarter or less than half time award, though three quarter will pay the same amount as half time. There is also a difference in the dollar amount between a two year school and a four year school. Your community college was correct to say that your OOG award eligibility would be higher at a university, but it is still limited to 12 FTE terms for your lifetime. Without looking at how much you had already used, in general, your question was answered correctly. However, because you don't have any eligible terms remaining, we can't give you an OOG award, at any level. OOG also does not disburse Summer term. It is a Fall, Winter, Spring award only.
At this point, you can apply for a transfer scholarship, if you have not. I would encourage you to apply for Foundation scholarships beginning October 1, 2019 for the 2020-2021 AY. All other scholarship deadlines have passed for the 2019-2020 AY. You should also apply for OSAC scholarships beginning November 1, 2019. Many other scholarship links and search tools are listed on our website.
You can always apply for private student loans to supplement your federal loans. Please see our information about alternative loans on our website.
If you have any further questions, please feel free to contact us here in the financial aid office. We are here to help!
Ask Federal Student Aid Q Series YouTube Responses

I want to study abroad, can I use federal student aid for that?

How does switching my major affect my federal student aid?

I have the GI Bill, are there any other options to help pay for college as a vet?

How can I keep track of my balance federal student loans?

How can I find out who my loan servicer is?

What types of employment qualify for Public Service Loan Forgiveness?

What is Income Based Repayment?

How do I make payments on my Federal Student Aid loan?

What is the FAFSA?

What are my financial aid options?

Do I have to pay for the FAFSA?

What is the deadline for submitting the FAFSA?

Do I need to renew my FAFSA every year?

How long does it take to fill out the FAFSA?

How much financial aid will I receive?

When do I have to start paying back my federal student loan?

I'm enrolled in a Doctorate program, do I still need parent info for the FAFSA?

Can I get federal student aid if I am not a US citizen?
No action will be taken by financial aid staff that is for their personal benefit or could be perceived to be a conflict of interest.
Employees within the financial aid office will not award aid to themselves or their immediate family members. Staff will reserve this task to an institutionally designated person, to avoid the appearance of a conflict of interest.
The University has no preferred lending agreement with any lender of private educational loans and does not maintain a preferred lender list. Neither the University nor any employee shall enter into any revenue-sharing arrangement with any lender or accept offers of funds for private loans to students in exchange for providing concessions or promises to the lender for a specific number of loans, a specified loan volume, or a preferred lender arrangement.
A borrower's choice of a lender will not be denied, impeded, or unnecessarily delayed by the institution. Borrowers will not be auto-assigned to any particular lender.
No amount of cash, gift, or benefit in excess of a the minimum amount shall be accepted by a financial aid staff member from any financial aid applicant (or his/her family), or from any entity doing business with or seeking to do business with the institution (including service on advisory committees or boards beyond reimbursement for reasonable expenses directly associated with such service).
No compensation may be accepted for any type of consulting arrangement or contract to provide services to or on behalf of a lender relating to education loans.
Information provided by the financial aid office is accurate, unbiased, and does not reflect preference arising from actual or potential personal gain.
Institutional award notifications and/or other institutionally provided materials shall include the following:
A breakdown of individual components of the institution's Cost of Attendance.
Clear identification of each award, indicating type of aid, i.e. gift aid (grant, scholarship), work, or loan.
Standard terminology and definitions.
Renewal requirements for each award.
All required consumer information is displayed in a prominent location on the institutional web site(s) and in any printed materials, easily identified and found, and labeled as "Consumer Information."
Financial aid professionals will disclose to their institution any involvement, interest in, or potential conflict of interest with any entity with which the institution has a business relationship.
Statement of Ethical Principles
The primary goal of the institutional financial aid professional is to help students achieve their educational goals by providing appropriate financial support and resources. To this end, this statement provides that the financial aid professional shall:
Advocate for students
Remain aware of issues affecting students and continually advocate for their interests at the institutional, state and federal levels.
Support federal, state and institutional efforts to encourage students to aspire to and plan for education beyond high school.
Manifest the highest level of integrity
Commit to the highest level of ethical behavior and refrain from conflict of interest or the perception thereof.
Deal with others honestly and fairly, abiding by our commitments and always acting in a manner that merits the trust and confidence others have placed in us.
Protect the privacy of individual student financial records.
Promote the free expression of ideas and opinions, and foster respect for diverse viewpoints within the profession.
Support student access and success.
Commit to removing financial barriers for those who want to pursue postsecondary learning and support each student admitted to our institution.
Without charge, assist students in applying for financial aid funds.
Provide services and apply principles that do not discriminate on the basis of race, gender, ethnicity, sexual orientation, religion, disability, age, or economic status.
Understand the need for financial education and commit to educate students and families on how to responsibly manage expenses and debt.
Comply with federal and state laws
Adhere to all applicable laws and regulations governing federal, state, and institutional financial aid programs.
Actively participate in ongoing professional development and continuing education programs to ensure ample understanding of statutes, regulations, and best practices governing the financial aid programs.
Encourage colleagues to participate in the financial aid professional associations available to them at the state, regional, or national level and offer assistance to other aid professionals as needed.
Strive for transparency and clarity
Provide our students and parents with the information they need to make good decisions about attending and paying for college.
Educate students and families through quality information that is consumer-tested when possible. This includes (but is not limited to) transparency and full disclosure on award notices.
Ensure equity by applying all need-analysis formulas consistently across the institution's full population of student financial aid applicants.
Inform institutions, students, and parents of any changes in financial aid programs that could affect their student aid eligibility.
Protect the privacy of financial aid applicants
Ensure that student and parent private information provided to the financial aid office by financial aid applicants is protected in accordance with all state and federal statutes and regulations, including FERPA and the Higher Education Act, Section 483(a)(3)(E) (20 U.S.C. 1090).
Protect the information on the FAFSA from inappropriate use by ensuring that this information is only used for the application, award, and administration of aid awarded under Title IV of the Higher Education Act, state aid, or aid awarded by eligible institutions.
Note: The Higher Education Act does not allow us to share data from your FAFSA directly with certain outside agencies, even with your written permission.
*This was adopted in part from the National Association of Student Financial Aid Administrators' Statement of Ethical Principles and Code of Conduct for Financial Aid Professionals. The obligations in this Code of Conduct are in addition to any requirements imposed by state or federal laws, or Eastern Oregon University policies.