EOU Style Guide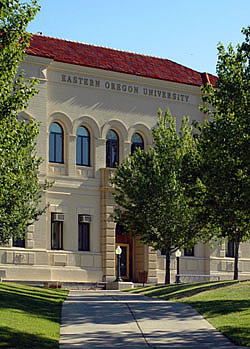 EOU Style Guide
Eastern Oregon University's style manual for media, marketing, publications and the web
As an institution of higher education, it is critical that all written materials produced and utilized by Eastern Oregon University be professionally executed and presented. Writing for the general public is different than writing for collegiate publications or research journals. As such, different writing styles pertain to different audiences.
Media, marketing, web and publication writing should be oriented toward a general audience and follow the guidelines listed below which are based on The Associated Press Stylebook, The Chicago Manual of Style and Wired Style.
Academic Degrees
Degrees are abbreviated with periods (Ph.D., M.A., B.A.)
Capitalization of degrees should match the Registrar's official degree list. When the discipline listed with the degree is not part of the official degree name, it is not capitalized – Bachelor of Arts in mass communication, Master of Arts in counseling.
Exception: Bachelor of Arts in Psychology (if an official name).
The word "degree" is never capitalized when referring to academic degrees
In general reference to degrees, do not capitalize them – master's degree, bachelor's degree, (note the apostrophe in these two, other generic degree names do not – associate degree, doctoral degree, or doctorate).
Use "master's degree" or "bachelor's degree" over abbreviations in general reference.
Cyberspace
General: Follow Wired Style.
Internet, not internet
Citing e-mail addresses: name@host.domain (yourname@eou.edu, or yourname@hotmail.com) delete http:// before addresses
e-mail, not email
Web site, home page, online
Eastern Oregon University
Refer to Eastern Oregon University by its full name upon first reference.
When abbreviating "Eastern Oregon University" upon subsequent references, use EOU, not EO or E.O.U.
Avoid referring to Eastern Oregon University as "Eastern."
Buildings
Use official building names in all titles, photo descriptions and upon first reference in stories, releases and letters.
Ackerman Hall, Ackerman Gym, Alikut Hall, Badgley Hall, Community Stadium, Daugherty Hall, Dorion Hall East/Dorion Hall West, Eocene Courts, Hoke Center, Hunt Hall, Information Booth, Inlow Hall, KEOL Radio Station, Loso Hall, North Hall, Pierce Library, Physical Plant, Quinn Coliseum, Regional Services Institute, Small Business Development Center, Student Health/Counseling Center, Zabel Hall
Dates
Spell out the month if used alone or with year: January 1993.
Abbreviate if followed by the date: Jan. 12, 1993.
In tabular material, use these forms without a period: Jan, Feb, Mar, Apr, May, June, July, Aug, Sept, Oct, Nov, Dec
University symbols, tagline and other graphic standards
See the EOU Standards Guide for information on acceptable use.
---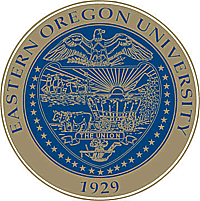 University Seal
The seal should be used only on stationery and presidential or formal publications. The commencement program is an example of a formal publication using the University seal.
---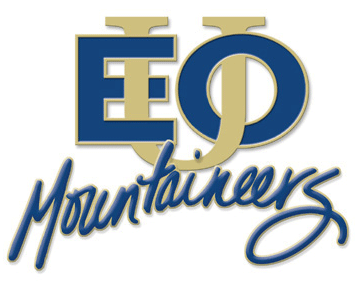 The Mountaineer logo and Monty the Mascot
The Mountaineer logo and Monty images are reserved for athletics use only. Exceptions will be determined by the University Advancement Office.
---
Campus Map
A current color illustration of the campus is available online at www.eou.edu/visitor/tour or by calling the University Advancement Office at 541-962-3740.
Numbers
Spell out when below 10 or when beginning a sentence.
Quotations
Commas introduce quotations of a sentence or a phrase.
Colons introduce quotes of more than one sentence.
Commas always go inside quotation marks.
Speakers introduce quotes in the past tense. "We held the Spring Symposium in Loso Hall at EOU," said Bob Davies, EOU president.
Schools
College of Education
College of Business
College of Arts and Sciences
Series of items
Commas separate series of simple items and no comma precedes the final item of a simple series: Scholarships, financial aid and loans.
A comma may separate the final items of a complex series in order to avoid confusion.
Use semicolons to separate more complex series involving individual items with comma separations.
EXAMPLE: Boise, Idaho; Dallas, Texas; Seattle, Wash.; and Miami, Fla.
Sports
Team differentiation:
There are no "Lady Mountaineers." Men's basketball team, women's basketball team, etc.
Student names:
Reference position, name, year and hometown: Right tackle Jason Follett (Sr., Hermiston)
No state identification necessary for Oregon cities:
Portland, Salem; but Omaha, Neb., Sioux Falls, S.D.
No standing transfer identification: Right tackle Jason Follett (Sr., Hermiston/Spokane C.C.).
States
Use The Associated Press Stylebook abbreviations. DO NOT use postal abbreviations:
Minn. Colo., not MN, CO.
Spell out Iowa, Alaska, Hawaii, Idaho, Ohio, Texas and Utah.
No state identification for Oregon cities: While in Portland, the student group toured…
Titles
Name of an individual is followed with complete appropriate title upon first reference: Bob Davies, president of Eastern Oregon University.
Titles of faculty and staff are not capitalized unless used before name: David Allen, assistant professor of mathematics; Assistant Professor of Mathematics David Allen.
Please use name, followed by title.
Political titles: Sen. Hubert Humphrey (D-Minn.)
University vs. university
Capitalize "University" when in direct reference to Eastern Oregon University and addressing internal audiences.
Other common questions
For students, include class status at time of publication upon initial use: Joe Student, a junior from Burns…
In first reference to alumni in articles: Use year ( 'XX) directly after name: Joe Graduate, '82.
For class of 2000, use '00.
In bylines, students and alumni are followed by years:
By Stephanie Pratt, '94.
Faculty and staff bylines include titles:
By Jay Miller, '82, sports information director
"Percent," not %; unless in graph or chart.
Job titles are not capitalized when following a name: Joe Alumni, '67, is the director of public relations at Super Industries, Inc., in Big Town, N.Y.
Use quotation marks around titles of books/publications except reference books:
"To Kill a Mockingbird," Encyclopedia Britannica
For play titles, use quotes – "Pippin"
Spell out grades first through tenth and hyphenate: first-grader. After that, use numbers and hyphenate: 11th-grade, 12th-grader.
Capitalize names of months in all uses. When used with a specific date, abbreviate only Jan., Feb., Aug., Sept., Oct., Nov., and Dec. Spell out all others and when using alone or with year alone. Joe Alumni, '67, and his spouse, Jane, announced the birth of their son, James, on Jan. 22, 1994.
Commonly used words
Advisor, not adviser
Days of the week: Capitalize and do not abbreviate, except when needed in tabular format:
Sun, Mon, Tue, Wed, Thu, Fri, Sat
Pacific Standard Time (PST)
Pacific Daylight Time (PDT)
Ph.D.
Telephone numbers: 800-541-3475 or 541-962-3740
Time: a.m. or p.m., 1 p.m. or 3:30 p.m.,
Time zone: 9 a.m. PST
Share: