Alumni Home Page
Eastern Oregon University Alumni Association
Welcome to the Eastern Oregon University Alumni Association, the cornerstone of our alumni community! We reach out with the goal of building lifelong relationships and supporting the university's mission. Through social activities and volunteer opportunities, alumni and friends forge connections with their alma mater, faculty and our students. Alumni are important to EOU's success!
Upcoming Alumni Events
Alumni Features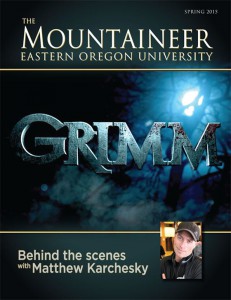 The Mountaineer Magazine
Inside the spring 2015 issue: 
View it now!
The Mountaineer Magazine is a free publication distributed to alumni and friends in partnership with the EOU Foundation. View past issues by clicking the cover images below.
Go behind the scenes of NBC's series "Grimm" with theatre alumnus
Find "beervana" with Jeff Dense, professor of craft beer studies
Bring EOU's future into focus with new governing board
Register for 2015 Homecoming events and more!
Alumni Events Calendar
Connect with us on social media

Follow
us on TwitterTo find out more, contact University Advancement at 541-962-3740 or e-mail
alumni@eou.edu
.