Board
EOU Alumni Association Board of Directors
Message from the Alumni Association President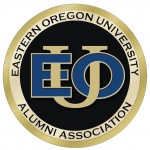 Dear Alumni and Friends,
Your alumni board is off and running for another year.  We have just finished a busy and rewarding year that ended with another outstanding Homecoming Week in which our campus, buildings and grounds, have never looked better.  Next October with the dedication of the remodeled Quinn Coliseum, most of the building renovations will be completed.  It would be a great opportunity to visit the campus to see all of the updates to the majority of the buildings.
I am honored to begin serving as the Alumni Association President after spending the last few years on the board.  I look forward to working with our amazing and dedicated board of directors in serving the alumni, faculty and students of our great University.  Three outstanding board members, Larry Glaze, Julie Gassner, and Lynn Rodriguez, have completed their successful terms of service, and we welcome and look forward to working with new members Jim Cohen, Jamie Jo Haddock, Patty Herron and Mary Sharinghousen.  We also need to give a big thank you  to Holly Kerfoot for her leadership as board president the last two years.
The years I spent at "EOC" as a student athlete were rewarding and provided a great athletic and educational experience that well-prepared me  for the job market.  Since then I have been privileged to share the uniqueness of Eastern Oregon University with potential students and their families.  It is a place of high energy, excitement, athletic and educational excellence.
The board has already begun planning next year's activities.  We are constantly planning how we can make our events better and what we can do to build connections  with our alumni.  We welcome your input with any new ideas; please feel free to contact the alumni office at any time.  We hope  you will visit our website, www.eou.edu/alumni, to check on scheduled regional and campus events.  Please take this opportunity to stay involved with Eastern and to help our students, faculty and staff continue their efforts to make Eastern Oregon University one of the top schools in the country.
GO MOUNTIES!!
Bob McMillan, '68 
President, EOU Alumni Association


Become a Member Today!
The Eastern Oregon University Alumni Association Board is dedicated to serving and representing all EOU alumni and is seeking nominations for new board members to increase diversity and fulfill important roles. Board members are elected by the alumni of EOU each year at the Annual Meeting and Alumni Reunion held during Homecoming. Board members must be graduates of EOU and are elected for three (3) year terms. If you are interested in serving on the board please fill out the alumni application form indicating your interest in serving on the board, or you may contact the University Advancement Office at (541) 962-3740 or e-mail alumni@eou.edu.
> Alumni Association Board Application
2014-15 Executive Committee

President
Bob McMillan, '68, Pendleton, OR
Vice President
Jamey McDonald '93, West Linn, OR
Secretary
Mike Daugherty, '74, La Grande, OR
Treasurer
John Patterson, '68, Walla Walla, WA
Board Members
Jeff Church '95
Fruitland, ID
Nick Toreson, '11
Eugene, OR
Jim Akenson, '79
Enterprise, OR
Patty Herron, '83
Elgin, OR
Mary Jo Lemon, '67
La Grande, OR
Mary Horn, '11 & '13
La Grande, OR
Jim Cohen, '76
Eagle River, AK
Karin Tsiatsos,'93
La Grande, OR
Jamie Jo Haddock, '04
Island City, OR
Adriana DalSoglio, '06 & '08
Meridian, ID
Kelsha Black, '12
Bend, OR