Philanthropic Benefit

Philanthropic Benefit
Established in 1964 for the philanthropic benefit of Eastern Oregon University, the Foundation raises funds to support the mission of EOU.  Each year, privately-funded scholarships provide over $350,000 to EOU students, making the dream of a college education a reality. For information about giving opportunities, please call University Advancement at 541-962-3740 or e-mail foundation@eou.edu.
Tea & Trumpets 2015: A Celebration of Scholars and Donors
Each year the EOU Foundation celebrates the generosity of donors who contribute to scholarships for EOU students. This celebration provides a special opportunity for donors to meet student scholarship recipients face to face and better understand the impact these gifts have on their lives and education. Click here to view the video at our livestream page.
Donor Profile: Don and Zola Dunbar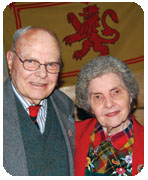 Scholarships and the GI Bill made it possible for Don and Zola Dunbar to attend EOU in the 1940s when it was Eastern Oregon College of Education. Although they left to complete advanced degrees at another university, they remain loyal Mountaineers. Don is a World War II veteran of the Pacific Theater where he served with the 13th Engineer Combat Battalion, 7th Infantry Division. Zola completed all 12 grades in a one-room school before leaving to attend Eastern and was later joined by Don following his military service and engineering work with the State of Oregon Highway Department.
> Learn more about the Dunbars and their scholarship for education students…
Share: