State Authorization Regulations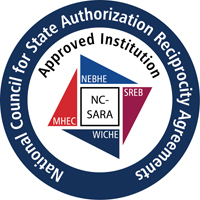 As of Jauary 2015, Eastern Oregon University has been accepted as an institution participant in the National Council for State Authorization Reciprocity Agreements (NC-SARA) initiative which has resulted in increased access to online learning at Eastern Oregon University.
Eastern Oregon University is now accepting students for all programs from the following SARA states: Alaska, Arkansas, Arizona, Colorado, Idaho, Indiana, Iowa, Kansas, Louisiana, Minnesota, Missouri, Montana, Nebraska, Nevada, New Hampshire, New Mexico, North Dakota, Ohio, Oregon, South Dakota, Virginia, Washington, West Virginia, Wyoming.
In the coming year, many more states will likely be accepted into the NC-SARA initiative.  Updates are made as soon as states are accepted and can be verified by checking: http://www.nc-sara.org/ Find more information about the benefits of SARA here: http://www.nc-sara.org/what-are-student-benefits
Online Students residing in Alabama
Eastern Oregon University is unable to offer distance programs to residents of Alabama at this time.  We regret this restriction as it is our goal to offer a quality education to students everywhere and we are working to promote reciprocal agreements between state agencies in the future.   Due to high annual fees associated with maintaining compliance in Alabama, EOU is not able to accept registrations or applications for online classes or programs from students who reside in these states.
Seeking Authorization
Eastern Oregon University is currently seeking authorization for the following states:
District of Columbia
Delaware
Maryland
New Jersey
Non-SARA States Authorization Status
Eastern Oregon University has been granted authorizations, exemptions, waivers, and/or is not otherwise required to seek authorization for all other states and territories.  However, online students residing in certain states may be ineligible to apply for programs with required internship components and current online students who wish to participate in internships may face restrictions.  If you are a current student, check with your faculty advisor before arranging an internship for credit in another state.
Student Complaint Process
Overview
As part of the new regulations (Federal Register, Chapter 34, §668.43 (b))EOU is also required to provide students with contact information for filing complaints in each state as well as with our own accrediting agency.  In compliance with federal regulations, students may access information about filing consumer complaints with the appropriate state authorizing agency.
Student Complaint Process
Eastern Oregon University aims to resolve all student complaints in a fair and expedient manner. Students wishing to file a formal complaint must first seek resolution through institutional grievance procedures.