XXI 2007-2009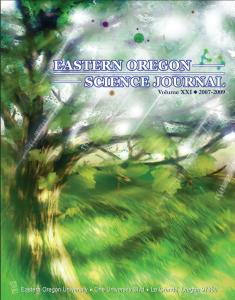 Contents
"Molecular Dynamics Simulation of an N-terminal Rep Peptide in the Presence of Sodium and Absence of Magnesium using GROMACS," Arden Perkins, Joe Corsini, and Jeffrey Woodford. Page 11. Biochemistry.
"Effects of Advil on Bacteriophage T1 Infectivity," Emily Byrd and Joe Corsini, page 15. Biology.
"The Morphology of Ciliated Surfaces of Tritonia diomeda," Ozy Zebarjadi, Mikala Brown, and Shaun Cain, page 19. Biology.
"Calculation of the Equilibrium Self-Assembly Constant of 2-acetamidopyrimidine," Emily Byrd, Nick Root, James Barnet, Wade Elliott, Chris Mello, and Jeffrey Woodford, page 24. Chemistry.
"Non Invasive Characterization of Maturity Status to Optimize Caviar Yield and Quality in White Sturgeon," Sarah Servid, Mariah Talbott, Joel Van Eenennaam, Serge Doroshov, Peter Struffenegger, Molly Webb, and Anna Cavinato, page 28. Chemistry.
"Rapid and Nonlethal Analysis of Bacterial Kidney Disease in Chinook Salmon Using Near Infrared Spectroscopy," Emily Byrd, Sarah Servid, Chris Kee, Mikaela Clark, Timothy Hoffnagle, and Anna Cavinato, page 33. Chemistry.
"The Geology and Geomorphology of the Late Miocene Maggie's Vent, a Basanite Fissure Volcano, Mount Fanny Quadrangle, Northeastern Oregon," Eric Bergey, Carli Morris, and Jay Van Tassel, page 38. Geology.
"Valeriana officinalis Root Extracts have Potent Anxiolytic Effects in Laboratory Rats," Kevin Murphy, Zach Kubin, Jennifer Shepherd, and Richard Ettinger, page 47. Psychology.