Don and Zola Dunbar Scholarship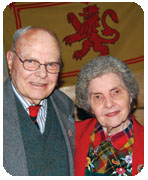 Don and Zola Dunbar Scholarship
Scholarships and the GI Bill made it possible for Don and Zola Dunbar to attend EOU in the 1940s when it was Eastern Oregon College of Education. Although they left to complete advanced degrees at another university, they remain loyal Mountaineers.
Don is a World War II veteran of the Pacific Theater where he served with the 13th Engineer Combat Battalion, 7thInfantry Division. His parents were Scottish immigrants who settled and began farming in Gilliam County in the early 1900s. Zola's roots are also in Gilliam and nearby Wheeler County, home base for her grandfather's traveling ministry and family farming operation. She completed all 12 grades in a one-room school before leaving to attend Eastern and was later joined by Don following his military service and engineering work with the State of Oregon Highway Department.
The Dunbars went on to spend a combined 68 years working in public education, and have experienced the influence of EOU graduates in classrooms and school administration across the state. They also know personally what a help scholarships and other funding can be for students.
That's why Don and Zola established a scholarship at the university that set them on course toward meaningful and successful careers. The Dunbars' scholarship is renewable and available annually to an Oregon student enrolled full-time in EOU's CUESTE program.