Math Lab
Math Lab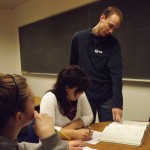 The Math Lab is located in Loso 232, just down the hall from the Learning Center, and provides math tutoring services that are available to all students currently enrolled at EOU.  Most of our tutors have completed the calculus sequence (through MATH 253) and are well-versed in topics ranging from arithmetic (MATH 040) and basic algebra (MATH 070 and 095) to college algebra (MATH 111) and beyond.
Our tutors are available for drop-in tutoring (no appointment necessary!) at the following times:
Sunday evenings:  7:00 P.M. to 9:00 P.M.
Monday through Thursday:  8:00 A.M. to 5:00 P.M. and 7:00 P.M. to 9:00 P.M.
Friday mornings:  8:00 A.M. to 1:00 P.M.
Even if you do not have any immediate questions for the tutor on duty, the Math Lab can be a great place to work on homework by yourself or with fellow classmates.
If you do have questions, come prepared so that the tutor can help you as efficiently as possible.  Bring paper, pencil, textbooks, and any other supplementary materials you may need, and have an idea of the specific topics with which you are struggling.