Computer Lab
The LC lab contains 19 computers fully equipped with Microsoft Office products and Internet access.  All of our computers connect to two black-and-white laser printers and one color printer.  Printing is free if you bring your own paper, or can be purchased from the lab assistant for 20 cents for 10 sheets.  There are also two scanners in the lab for student use.
Student lab assistants are available during all of the above hours to assist with any questions you may have.
The computers in the Learning Center are currently available for student use during the following hours:
Lab Hours for Fall 2018
| | |
| --- | --- |
| Monday – Thursday | 7:00 AM to 11:00 PM |
| Friday | 7:00 AM to 5:00 PM |
| Saturday | 1:00 PM to 5:00 PM |
| Sunday | 1:00 PM to 11:00 PM |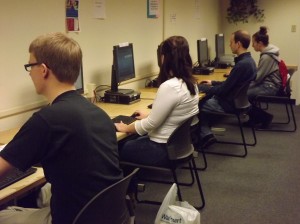 For more information regarding computer use on campus, please see the acceptable use policy provided by EOU's IT department.  Equipment specifications can be found here.