From boardroom to classroom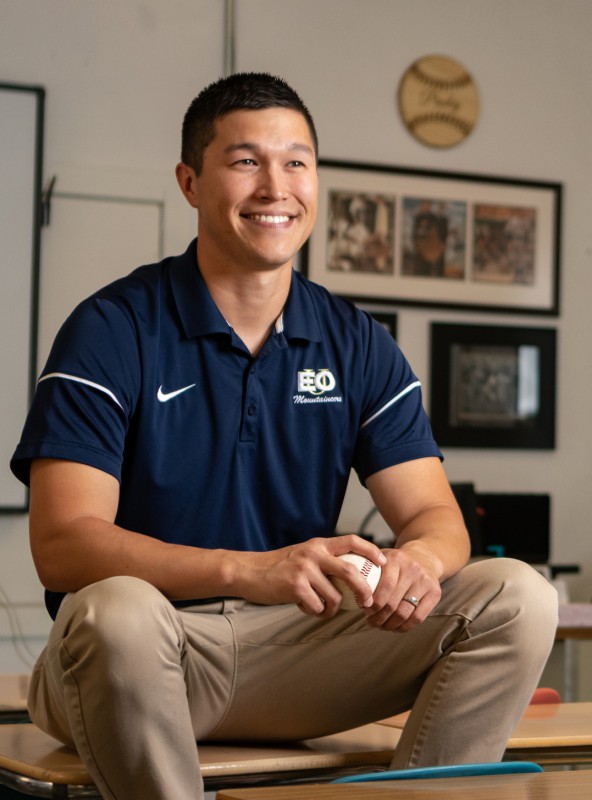 By Katy Nesbitt
When TJ Presley, '17, left a full-time management position to earn a Master of Arts in Teaching from Eastern Oregon University, he brought corporate experiences and values with him.
Presley started teaching algebra and junior high math in Pilot Rock, and toward the end of his first year he also became athletic director at Pilot Rock High School.
Between time in the classroom and overseeing the school's sports programs, Presley gets to know all of the students. Pilot Rock boasts about 20 students in each graduating class, and Presley said he's interested in more than their math skills or their ability on the field.
"Part of being a teacher is making sure kids know their responsibilities," Presley said. "I'm teaching math but I spend a great deal of time teaching life skills."
Presley listed punctuality, meeting deadlines, organization and preparedness as some of the skills he folds into his lessons. He said he encourages a safe environment for all students in the classroom, teaching work ethic and teamwork through cooperative learning.
After less than two years in his new field, Presley was nominated for Teacher of the Year. At the end of the 2018-19 school year, while Presley was officiating a pep assembly for Pilot Rock's three state track meet qualifiers, school officials announced the good news.
"It was a big send-off, the band was playing — when the principal and superintendent came out and took the mic from me."
A big banner was unfurled, naming Presley Teacher of the Year for Oregon's InterMountain Region, and his 3-year-old son Benson ran onto the floor with a fistful of balloons.
Presley may never know who nominated him, but perhaps whoever it was noticed some of the little things he does — like make connections for high school seniors seeking internships or perhaps it was the college and university banners hanging in his classroom, donated from schools around the country, to encourage seventh and eighth grade students to start thinking about higher education.
Presley said, "I want to present opportunities to kids so they know they are out there."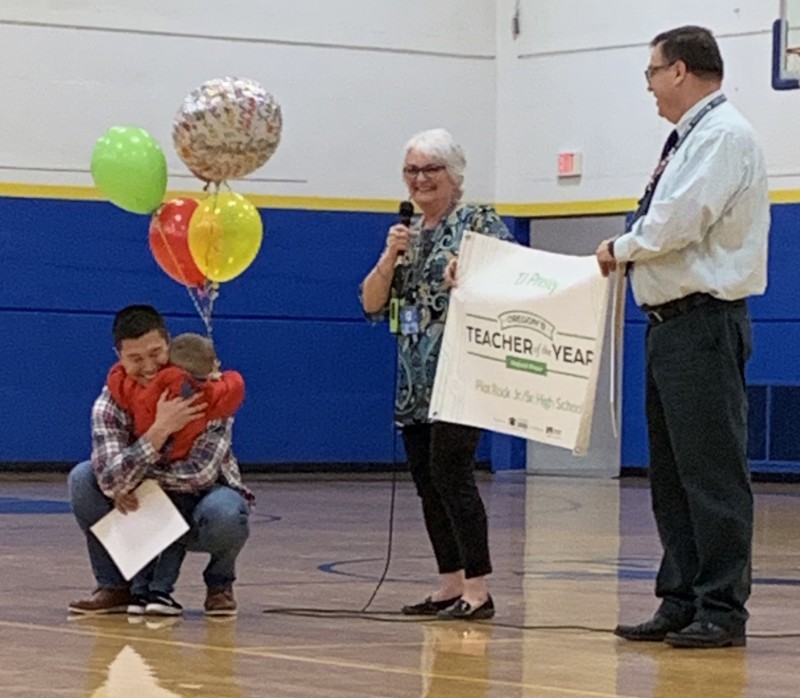 The InterMountain Region covers Morrow, Umatilla, Baker and Union counties, employing more than 200 educators. In 2018-19, Oregon recognized a Regional Teacher of the Year from each of its 19 educational service districts. This fall, statewide administrators selected the Oregon Teacher of the Year from those regional winners.
As a regional awardee, Presley received $500 through the state Department of Education's partnership with the Oregon Lottery.
An Ontario High School graduate, Presley attended Western Oregon University and played on the baseball team. He graduated with a business degree and started a career in finance that took him to three Fortune 500
"I'm just a manager in the business world, but my relationships with students are different — making an impact on their young lives is more special and significant."
companies, and eventually to a management position with Walmart where he oversaw eight managers and up to 200 employees.
Based in Pendleton, Presley became an assistant baseball coach at the high school and soon found working with students more rewarding than his day job.
"I'm just a manager in the business world, but my relationships with students are different — making an impact on their young lives is more special and significant," he said.
Years of coaching baseball, along with his corporate finance and management responsibilities, led Presley to take his expertise to the classroom.
"All through coaching baseball some of my mentors encouraged me to pursue teaching because they saw how much I loved working with kids."
Through online courses in school administration, Presley is already making plans to combine his careers in even more meaningful ways.
"I don't know in what capacity I would use my administrative credentials, but I will definitely be in education for the long haul," he said.