Finding strength through teaching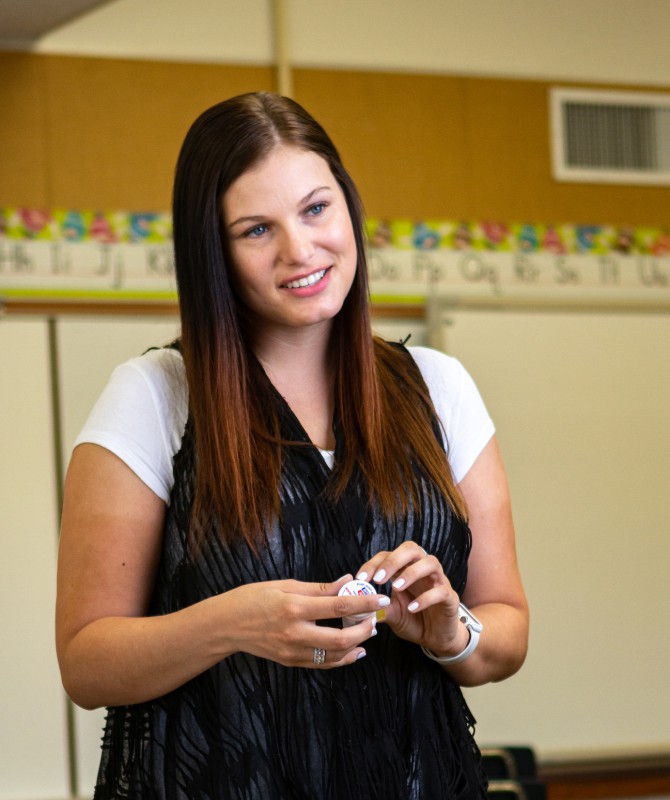 Pauci-immune necrotizing glomerulonephritis: 15 syllables that changed Tara Fox's, '18, life when she was diagnosed with the kidney disease as a sophomore in high school.
The chronic disease means she'll need an organ donor eventually, and bi-annual chemotherapy treatments to keep it at bay in the meantime. She said her kidneys have been functioning at about 25% since 2013.
"You'd look at me and never know I was sick," said Fox, now a teacher in Athena.
Fox said she struggled with her health through high school, then the disease went into remission. She enrolled at Blue Mountain Community College in 2011, determined to earn her associate degree and transfer to EOU's education program. But Fox's health took a turn in winter 2013, so she went in for testing and doctors realized her kidneys were failing.
"The kidney disease is a big part of my life," she said. "I could have easily given up a long time ago, but teaching is something I've always wanted to do. In our second grade time capsule, I wrote that I wanted to be a teacher."
So she took a year off from her education in 2013-14 to undergo treatments, and worked in the same elementary school classrooms she'd grown up in since kindergarten.
"Most of my co-workers were past teachers, and they understood my disease," she said. "But being an [instructional assistant] isn't teaching, I didn't have my own classroom."
By 2016, she enrolled at EOU as an onsite student at the regional center in Pendleton. Fox received three scholarships from the P.E.O. chapter in Milton-Freewater, one of which was the largest amount the group had ever awarded.
"My mom went back to college when I was in high school, and she got a scholarship from them, too," Fox said.
She attended some classes online, steadily making progress toward her degree while living at home in Athena and working at the elementary school there.
"My disease has made me stronger," Fox said. "It's taught me a lot about life. I deal with it every day, but doesn't hinder me from doing what I want to do."
Fox's commitment to her goal was tested when it looked like the onsite program in Pendleton might no longer be available, but two EOU instructors from the main campus travelled to the regional center to provide onsite classes for the remainder of the academic year.
"One of the reasons I chose EOU was for the onsite program," Fox said. "It couldn't have been more perfect for my needs."
"I could have easily given up a long time ago, but teaching is something I've always wanted to do. In our second grade time capsule, I wrote that I wanted to be a teacher."
As Fox entered her senior year, two new instructors signed on to teach classes in Pendleton for the year.
"They drove over from La Grande twice a week so we could finish the degree there in Pendleton," Fox said. "The two instructors couldn't have been more amazing. They shared life experience and taught us what we needed to know to do the day-to-day work of being teachers. Their sacrifice and EOU's commitment to us was amazing."
From starting at Athena as a temporary substitute, Fox recently joined the staff as a full-time teacher. Now, she's enrolled in EOU's master's degree program to earn an endorsement for special education. She said her time in a life skills classroom as an instructional assistant got her interested in the field.
"It's one of the most rewarding jobs, and also one of the most difficult," she said. "I feel like there's so much to celebrate in special education classrooms — you celebrate every little everyday achievement."
Fox's own persistence is on display as she proves herself in everyday tasks against her disease. She said the primary symptoms are exhaustion and fatigue, which she combats with coffee and daily naps. Fox also has to be careful about eating too much salt or protein, and regular medications and doctor appointments keep her kidneys in check.
"I still travel, work out, live my life," Fox said. "Even though it took me twice as long as the average student, I just didn't quit and kept going."
Many of the lessons she teaches in special education, elementary and high school classes communicate values about the adult world, Fox said. She especially encourages her students to be kind to others and give everyone a chance regardless of their backgrounds.
"In today's world, the playing field is not always equal," she said. "I teach in my classroom that we don't say negative things about anyone else. I really emphasize for my kids to do their best, even if it's different from the best that the kid next to them could do."
Skills like making eye contact and saying, "Hello," are a big part of her approach. She urges students to reach out to a classmate they know is lonely or struggling. Her students learn to hold the door for others, and to say, "thank you," when someone holds it for them.
"I try to show the kids that what they're learning in the classroom we're still struggling with as adults," she said.