From the Beat to the Street
The world met Julia in April 2017, when one of Sesame Street's newest muppets joined the cast as a 4-year-old with short red hair, green eyes and autism.
As her puppet peers learned to interact with Julia through art, so did young viewers and their parents. EOU alumnus George Thompson, '02, had met her prior to the on-air debut. He collaborated with the Sesame Street Autism Initiative to share the impact of music and drumming with special needs populations.
By that time, Thompson had spent nearly a decade teaching children and adults with developmental disabilities. Thompson earned degrees in anthropology and sociology at EOU, but music was always his passion. After producing two albums in New York City, he sought out a higher purpose. A trained social worker, Thompson taught in Ecuador, Thailand, Bulgaria and Korea before returning to the U.S. for a job at TERI Inc. in California.
Thompson joined the nonprofit as its Music and Performance Arts Director. TERI, an acronym for Training, Education, Research, Innovation, serves individuals with autism and other developmental disabilities.
As he began teaching music in special education classrooms, Thompson realized traditional music instruction and instruments weren't reaching all of his students.
"I was making an impact, but I was extremely discouraged," he said.
One of his students was a young man with autism named Chris, who was severely limited in speech and interpersonal communication.
"When I first met Chris he could only verbalize yes and no," Thompson said. "He was reluctant to participate in group music classes, often plugging his ears, jumping and flapping his hands during lessons."
One morning Chris got to school early and Thompson sat down at the piano to teach him a few chords, but within seconds Chris began jumping, flapping and running around the room. A few days later, Chris arrived early again.
"He sat down at the piano with me and played the three chords I had only showed him once," Thompson said. "It opened my eyes to how the human mind works, and that through music you can reach people who seem unreachable."
Chris later learned to read and write through music, performed Mozart, and played with Grammy-winning artists on stage.
"He was a catalyst for me," Thompson said. "I had to step completely out of the box and create individualized and unique approaches for every student to revolutionize music-making for fun, health and wellness."
Thompson began developing lesson plans to improve social skills, behavior and self-confidence through music. He cultivated partnerships with manufacturers and suggested modifications to guitars, drums, pianos and other musical instruments to make them more accessible.
Soon Thompson was a highly sought-after speaker worldwide. Collaborations with Taylor guitars, Lennie Fuzzy Rankins, Michelle Williams and Jason Mraz followed his success.
Finding the rhythm
During his nine years at TERI, he worked with 30 manufacturers on specialized musical instruments, but his relationship with Remo, Inc. and drums led to a newfound passion for percussion. Although his primary instrument is guitar, Thompson used drums frequently in classrooms.
"Drums are the easiest access point for people," he said. "We function in rhythm naturally through breathing, talking, heartbeats, you name it."
But the drums he'd found were disappointing. They required constant tuning, the membrane of the drumheads was difficult to clean, and the tones were often bothersome to sensory-sensitive students. He shared his concerns and ideas at Remo's booth during a trade show, and got an invitation to meet the company's owner, Remo Belli.
He soon learned that Remo had already begun to develop specialized technology to address these and other issues. Thompson worked with Remo staff for two years to test and refine the new drums.
In 2015, Remo Inc. released Comfort Sound Technology, a drumhead designed to deliver a unique quality of sound by suppressing high-frequency overtones. The focused low frequencies provide a comfortable sound that is ideal for sound-restrictive environments such as hospitals
or classrooms, and for working with individuals who find regular drums over-stimulating and too loud.
At just 31 Hertz, the vibrational, tactile tones of the massive 40-inch table drum allow profoundly deaf students to feel the beat. The large drum table set-up also promotes socialization for students who have a hard time making eye contact.
Taking it to the street
Remo signed Thompson as a health and wellness educational artist, and sent him on the road to promote the line of adaptive drums and accompanying videos and lesson plans. Through this new role, he connected with Sesame Street as they were preparing to debut Julia. He worked with Sesame Street to share the new curriculum and grant drums to schools and organizations across the U.S.
"It was so exciting to have Sesame Street involved because of their umbrella to reach so many schools and families," Thompson said. "So much of the problem is that services and resources for people with autism are segmented across a number of disconnected organizations."
Sesame Street's broad appeal has helped relieve the stigma around autism over the past several years. Although one in 68 children are diagnosed with Autism Spectrum Disorders (ASD), understanding and acceptance remains varied.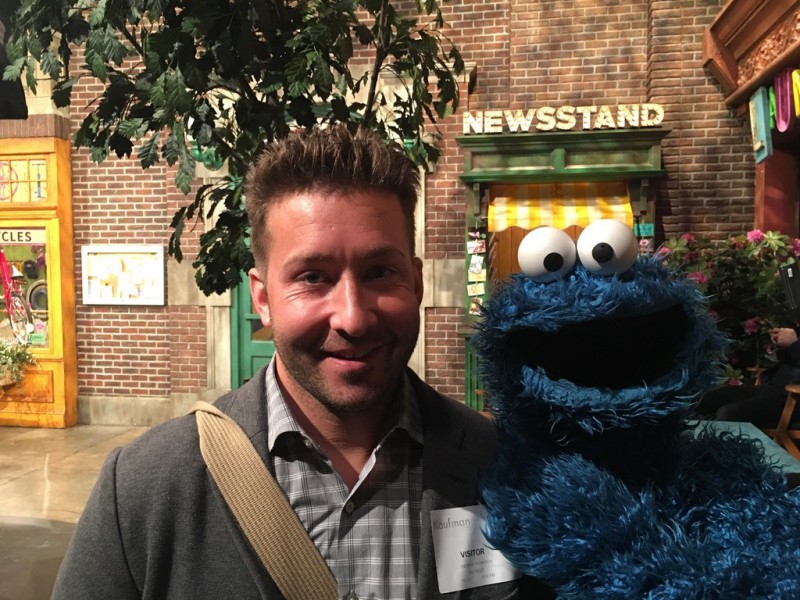 Thompson also worked with his students at TERI to promote the Sesame Street and Autism initiative. The TERI Band learned "The Amazing Song," and incorporated it into their educational outreach. The band performed the song and provided the "Amazing 1, 2, 3" books to grade schools throughout San Diego County. Sesame Street even featured the group's performances on its website and social media platforms.
Bringing it home
In April 2016, Remo Belli passed away, but Thompson said the impact of his partnership endures.
"These interactions [with Sesame Street and Autism] strengthen and honor Remo's vision, legacy and mission of using music and playing drums for the betterment of humankind," Thompson said.
After nearly 20 years away from home, Thompson returned to the Grande Ronde Valley with his wife to buy a house in Cove near his mom. He said he felt a call to use his expertise to serve people in need in his hometown. His new role as a member of the administrative council at the Center for Human Development (CHD) in La Grande has afforded Thompson the opportunity to do just that.
"I hope to address stigmas around mental health and developmental disabilities that still persist in my home community," Thompson said. "I want to improve accessibility and promote services that are available here."