Finding her way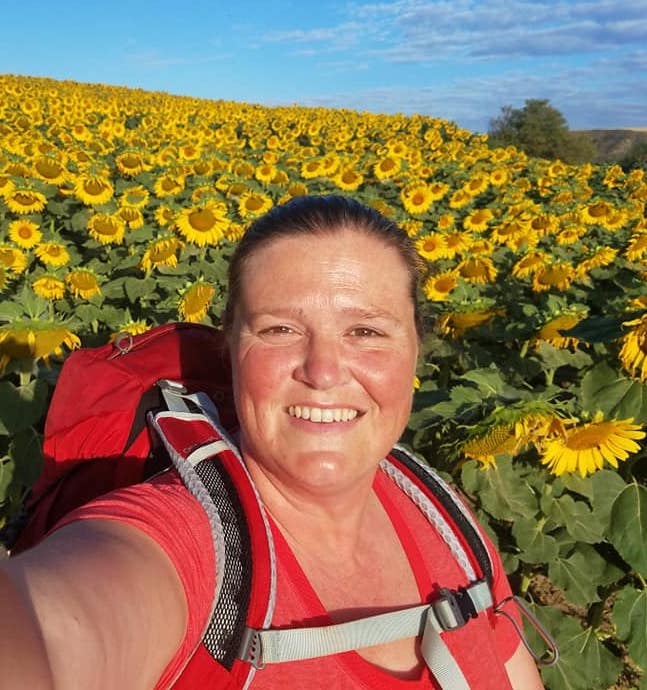 Adjunct vocal instructor Jamie Jacobson walked 500 miles over 40 days this summer, following the ancient Camino de Santiago through northern Spain. She said the physical, mental and spiritual challenges and triumphs of the camino equipped her to better guide aspiring musicians. Learn more about her experience @theWAYtoJamie2019 on Facebook.
5 things I'm bringing with me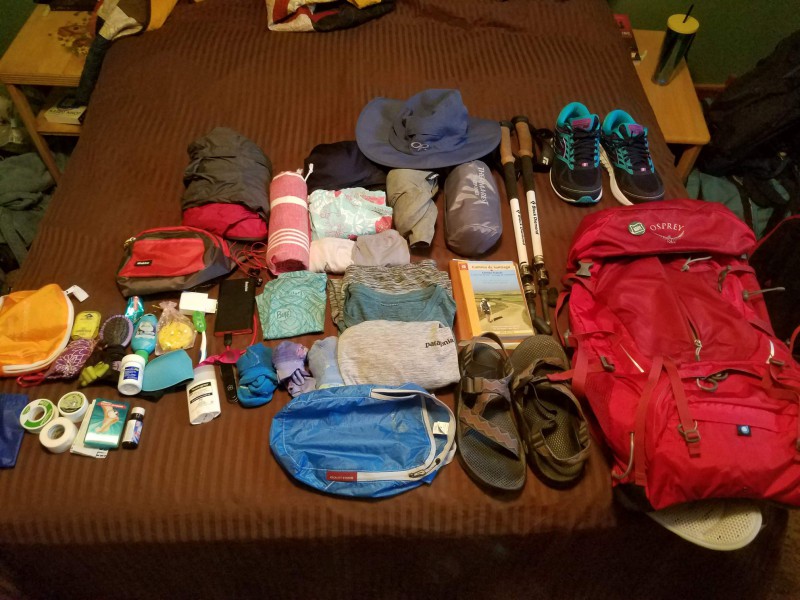 Fear: of the unknown and unplanned (like not having a bed, unsavory characters, and injury). I don't want fear to keep me tied up in my life, but I cannot deny its existence. So I will lean in to what's uncomfortable while relying on my common sense to keep me safe.
Gear: limited and cultivated gear that weighs 14 pounds in a bright red pack that feels like it was made for me! I have two sets of clothing, three pairs of socks, foot care, shower products, guidebook, journal, water bottles, hiking poles, sandals, a sleeping bag liner, travel pillow and a stone from home to leave along the path at the Cruz de Ferro.
My village: my family and friends who support this endeavor are coming with me both in my heart and as represented by a scallop shell I will carry on my pack. I couldn't do this without the support of my village, especially my husband Sam and my son Ethan.
An open heart: I'm ready for whatever lessons the camino has to offer while I'm on this journey. I am ready to meet new people from all walks and areas of life, endure physical pain and emotional and mental struggles as I push my body and mind to new heights.
My trusty adventure hat and tons of sunscreen: it's the middle of summer in Spain and there's a heatwave all over Europe. I'll need my wide brim hat to help keep me cool and protected from the sun. I'm going to use a sunscreen stick to avoid coming home with just one half of my body kissed by the sun from only walking westward.
5 things I'm bringing home
Understanding of the importance of human connection, and the knowledge that every interaction is impactful no matter how brief. Sometimes goodbye means see you later and sometimes see you later means goodbye.
The idea that we cannot teach or be taught. We can only put ourselves (and our students) in situations to allow for learning. I was taught to count to at least 10 in every language I encountered.
An ingrained knowledge of what 31*C and 28k feel like without needing to convert them.
Grounded confidence in myself and a new understanding of fear.
The ability to wash my clothes, hair and body with only one bar of soap in a cold shower that is just big enough to turn around in.