Comfort in crisis
EOU Foundation funds keep students enrolled through life's challenges
Last year alone, 27 students benefited from EOU Foundation Crisis Awards. The funds support online and on-campus students who find themselves in difficult situations, where medical expenses, car trouble or childcare costs could threaten their progress toward earning a degree. These private funds close the gap to keep students on track, and, alongside other student services, support them on the way to timely graduation.
Higher education was never part of Megan Brown's plan for her life. Her parents hadn't gone to college, and she'd followed them into the working world right after high school. But after seven years of working double-shifts as a waitress to support her young son, Brown decided to make a change.
"I got fed up and quit one day," she said.
Brown did odd jobs and worked harvest for a year, but after being turned down for more professional positions because she didn't have a degree, she enrolled at Eastern Oregon University.
Now in her senior year, Brown is determined to complete her business degree a year early and graduate in June 2020. She hopes a minor in communication and concentrations in marketing and management will equip her to promote athletics teams or work in a sports information office.
A little over a year ago, Brown's dream was almost derailed. She was three terms into her education as a first-generation student, working two jobs and attending classes full-time.
"Things got really tight," she said. "My son has health issues, including asthma and allergies, and I'd been trying to make every penny stretch. I have a lot of pride. I've worked since I was 15, I moved out on my own at 17. It's really hard for me to ask for help."
Brown talked to Scholarship Coordinator Danny Bailey, who told her about Crisis Awards from the EOU Foundation.
"I wrote my letter, and I didn't expect anything," she said, but hardship funds opened her eyes to the generosity of the EOU community. "It showed me that people are out there to help, and they recognize that things happen. It's really nice to know that there are people who want to help. I would love to thank that donor, to say how much it helped my family."
In 2018-19, the EOU Foundation awarded $10,891 in Crisis Awards, awarding about $200-$500 (on average) to 27 students in crisis.
At 33, Brown is a non-traditional on-campus student, and she hopes to bridge the gap for single parents and older students who need some inspiration. She's getting her career jump-started as sports information director's intern this year at EOU.
"I never saw myself going to college, especially in my 30s," she said. "Getting the Crisis Award has kept me on track, and I hope that one day I can be in a financial situation where I could help someone like me."
More than 2,000 miles separated Tanisha Willis from her family in Fort Benning, Georgia when she moved to La Grande in 2017.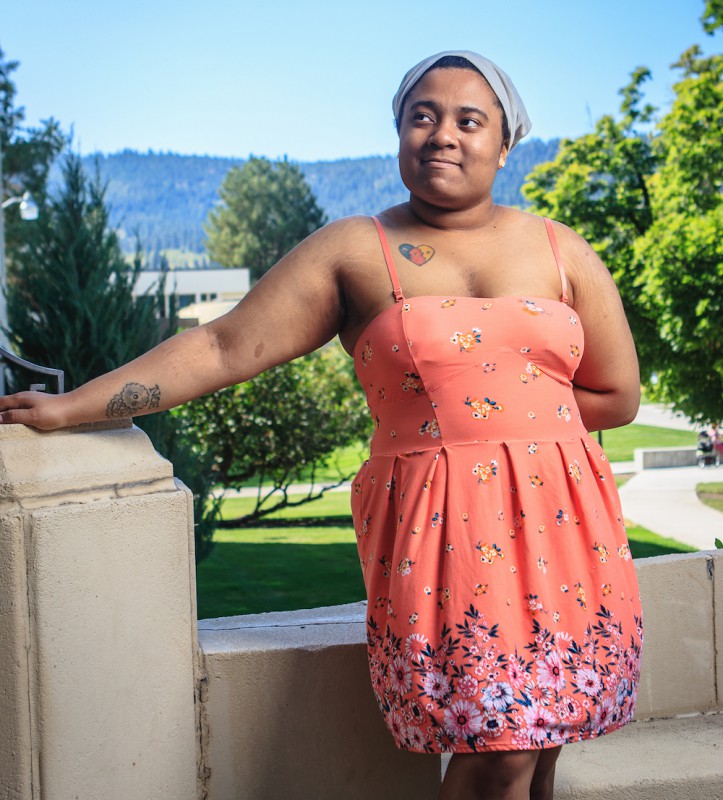 She'd spent about two years in Texas, working and taking classes full-time. Eventually the strain of 80-hour weeks became too much and her mental health suffered. After a brief return home, Willis followed her partner to Eastern Oregon University and enrolled as a junior, bringing credits from four prior institutions.
After stints in the medical field and other careers, Willis found inspiration in EOU's art facilities and embraced her passion for creating.
"I've always loved art, but my family didn't want me to become a 'starving artist,'" she said. "Art 101 was a turning point for me. It got me thinking about art in a different way and really opened my eyes to contemporary art."
For a class project, she made a cardboard box with an infinity mirror in it to communicate big ideas about modern issues.
"It was the most ambitious thing I'd attempted and I was really impressed with what I was able to create," Willis said.
Meanwhile, though, her relationship and mental health were deteriorating. Willis reached out to Mike Williams in the TRIO Student Support Services office, and he connected her with emergency housing in the residence halls, as well as counseling services.
Williams also referred her to Financial Aid staff to learn more about her eligibility for a Crisis Award. When the relationship broke down and Willis lost her housing, she also lost some of her belongings.
"I had one blanket and a pillow when I moved to the residence hall," she said. "I used the Crisis Award for a comforter, groceries, towels and soap. It made me feel good that there was someone I could go to for help getting those items that make you feel human."
As president of the Gender and Sexuality Resource Center and Vice President of Art Club, Willis said she tries to do her part to create inclusive, welcoming communities on campus.
"As a student of color, it's hard to accept that if you want to affect change you have to be brave enough to participate, to put your foot in and go to those places you feel out of place," she said. "But nothing would've changed if I had just stayed home all the time."
She's set her focus on print media and plans to graduate in March 2020. Coming from metropolitan areas in the opposite corner of the country, Willis said she's become more open to rural communities during her time at EOU.
"The world we live in is a harsh one, I don't think we should make it worse," she said. "It's important to be kind and help one another."
Learn more about how you can support students at eou.edu/foundation today!