Art Club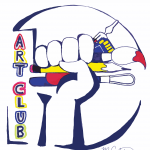 UPCOMING EVENT: The EOU Art Club's Abandoned and Begged-For Art Auction will take place on November 21st in the Loso Hall Lobby from 6pm-9pm. There will be a silent and live auction with food provided.
EOU Art Club is a magical place where you can be you. Meet other art lovers and students who have common interests in the arts. Whether you make art or just enjoy looking at it, there's a place here for you! No art experience is necessary and everyone is welcome. Come join in on the fun through making and viewing artwork, or just hanging out to relieve stress from classes.
Meetings are every Thursday at 3pm in LH 210B! 
Explore your creativity and hang out in the Loso Art Lounge – LH 204
Follow us on Instagram @eou_artclub !
Join the EOU Art Club!
Interested in having EOU Art Club create advertisements, logos, take pictures, or make any art related things for you? Contact us and we can have members collaborate with you to make your dreams reality!
Email us
Club President: Hannah Smith — hasmith1@eou.edu
Vice President: Tanisha Willis — tdwillis@eou.edu
Secretary: Jan Ng — jng@eou.edu
Treasurer: Nickie Voltaire — nvoltaire@eou.edu