Admission Procedures
Admission procedures for International and Pacific Island COFA Students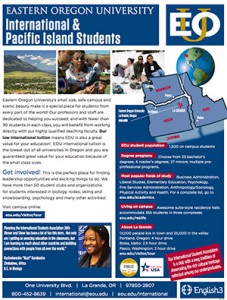 We look forward to working with you at EOU! Applicants who are non-immigrants and are citizens of a foreign country will be considered for admission as international students. Use this checklist as a tool to help keep organized as you complete and submit the important documents needed for the next steps in your admission process.
---
Completed and signed application
Use your full legal name. List any former or maiden names, if applicable. The application is available to print or to complete online.
Submit a $90 application fee.
---
Official transcripts from previous school(s)
Submit official transcripts from previous school(s) – Official high school transcript and verification of diploma must be translated into English.
Transfer students: must include official transcripts from all colleges, universities and professional schools attended. Transcripts must show all grades/marks earned along with credits/hours earned.
Affidavit of Support and Financial documentation
Students must submit an official copy of personal or parent/sponsor bank statement for the listed amount on the Affidavit of Support. Acceptable financial documents must not have been issued more than six (6) months before the term you intend to enroll at EOU.
See our estimated Cost of Attending table for more information.
Photocopy of current passport
Official copy of English testing score report *
If English is not your native language, proof of proficiency is required. EOU's school code: 4300.
TOEFL (paper based): 500 overall
TOEFL (Internet-based): Minimum overall score of 61
IELTS: Minimum score of 5
Level 112: Completed at an English language school
* Interview
The International Student Services Office may invite you to participate in a verbal interview to assess your English comprehension and communication skills. Interviews will be arranged through a Skype video call or via telephone if video conferencing services are not available.
In order to be considered for admission, please mail the above items to:
Office of Admissions
Eastern Oregon University
One University Blvd.
La Grande, OR 97850
U.S.A.
E-mail: international@eou.edu
Phone: 541-962-3393
Be advised that all material submitted in support of an application becomes the property of Eastern Oregon University and will not be returned to the applicant or forwarded to other schools or agencies.
Other important items to complete gaining admission to EOU:
Turn in your immunization verification
Complete your Immunization Form and fax to 541-962-3418 or mail to the Office of Admissions at the address above.  According to Oregon law (OAR 333-050-0130), international students who are attending EOU pursuant to a non-immigrant visa must provide official documentation of measles vaccination prior to attending classes. If your first dose of measles vaccine was received less than 30 days prior to attendance, you will have until the beginning of the second term to receive and provide documentation of your second dose.
Apply for on-campus housing
For answers about housing, please visit the Residence Life website, e-mail reslife@eou.edu, or call toll free 800-452-8639 ext. 7 or 541-962-3553.
Save the dates!
More information
For additional information regarding our admission policies and procedures, please call 541-962-3393 or e-mail international@eou.edu.