Profiles
Donor and Student Profiles
Carol and Doug Campbell
Edna and Frank Paris Memorial Scholarship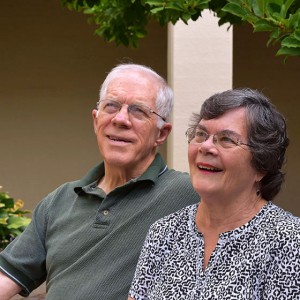 La Grande residents Carol and Doug Campbell made an additional gift to a scholarship Carol established in 1998 in memory of her late mother and father, Edna and Frank Paris, who were enthusiastic advocates for the arts.
Carol grew up in La Grande and attended the Ackerman Lab School at EOU. Her parents, who lived near campus, regularly took the steps of EOU's Grand Staircase to watch performances in the old theater in Inlow Hall.
"Music and theater was their entertainment, so when the time came I decided their scholarship should support the arts," Carol said.
Doug also has strong ties to the university, where he is a professor emeritus of chemistry with a 38-year tenure from 1962 to 2000.
Since its inception, the Edna and Frank Paris Memorial Scholarship has been awarded 16 times and provided a total of over $7,000 to students. The Campbell's new contribution will significantly increase the award for the 2016-17 academic year and beyond, providing over $1,000 each year for students.
"Helping students go to school is what it's all about, and any help you can be is better than no help at all," Carol said.
The scholarship is intended for EOU music majors in their sophomore year or above, and active participants in the university's music programs with a cumulative GPA of 3.25 or higher.
"Gifts like this allow the EOU Foundation to provide much needed scholarship support to deserving students," said Mike Allstott, foundation president. "Privately funded scholarships awarded through the foundation for the current academic year will provide over $425,000 to students, making the dream of a college education a reality."
"Growing philanthropic support for current and prospective EOU students offers increased access to all the possibilities offered by an Eastern education experience," added Tom Insko, EOU president. "We greatly appreciate donors like the Campbells."
Well-known in the area as the owners of McGlasson's Stationery for nine years, the couple retains a visible presence dedicating time and energy to numerous efforts including the La Grande Main Street Downtown program.
Carol is a member of a local P.E.O. chapter and is looking forward to attending the philanthropic organization's national meeting as a delegate this fall. She also plays in a handbell choir, while Doug sings baritone and was a member of the former Blue Mountain Barbershoppers.
"We've always enjoyed music," Carol said. "It's very important to us."
When she and Doug first met, it was over sheet music at their church choir. With contrasting backgrounds in chemistry for Doug, and clothing and retail for Carol, it was their shared love of singing that provided a point of commonality to start a lasting relationship now approaching 30 years strong.
Arts advocates, music teachers and other supporters have created several scholarships with the EOU Foundation similar to the Campbell's in honor or memory of individuals who shared the long-term vision of growth and development of EOU's role in the artistic community.
"It's a legacy worth having," Doug said. He and Carol have also established a bequest with the EOU Foundation.
For more information on the Edna and Frank Paris Memorial Scholarship and other awards, go to www.eou.edu/foundation/scholarships.
Molly Alexander
Recipient of the Jean McKenzie Scholarship 
"I am a junior at EOU, studying English with an emphasis in writing. My ultimate career goal is to be able to write for literary or outdoor magazines from anywhere in the world.
Growing up with seven siblings, my parents tried their best to make education important in our home. They helped me set up a college savings fund, but the cost was still unaffordable. Then I happened upon EOU and consider the rest to be nothing short of fate. I even received a hand-written acceptance letter from President Davies!
I was awarded the Jean McKenzie Scholarship through the EOU Foundation, and it allows me to put my whole heart into my studies and maintain a 3.9 GPA. In 2014 I will become a first-generation college graduate. This will not only be my greatest accomplishment, but an experience that has completely changed me as a person, the way I view the world and value learning. Everyone deserves the chance to attend school and evaluate their goals, and I truly look forward to giving back one day, too.
The EOU Foundation may never know how much their support affects the lives of college students, but I can tell you it has made all the difference in mine."
The Charles and Rhoda Chollet Endowed Scholarship Fund

In life, Charles and Rhoda Chollet carried such zeal for education that the couple wanted to continue making a difference even after they were gone.
That's why the Chollet's set aside $934,000 to establish an endowed scholarship fund for students in need at their alma mater. Their posthumous estate gift is the third largest donation to the EOU Foundation in its 48-year history.
"Charles and Rhoda shared a vision to help low-income students attend college," said EOU President Bob Davies. "This new endowment will soon generate funds for multiple $3,000 per year scholarships to help needy students majoring in science and education."
The Chollet's met and married at Eastern in the late 1940s. Charles went on to earn a Ph.D. in entomology and Rhoda completed her master's in education. They were married 57 years until Charles' death in 2003. Rhoda died in 2012.
Jaqulyn Kyles-Abdelrahaman 

Recipient of the Irma Klinghammer Scholarship 
"As a current master of arts in teaching (MAT) student, I am also a proud Mountaineer alumna. In 2007 I graduated from EOU with a degree in business administration. The opportunity to extend my post-secondary education has been possible because of many amazing people and organizations, including the EOU Foundation.
The MAT program is quite grueling with full-time graduate coursework, student teaching, and traveling every few weeks between Boise and La Grande. It is not possible for me to work and complete the program, but through the generosity of the Irma Klinghammer scholarship I am able to receive a premier education that will prepare me for a teaching career. The compassion of the EOU Foundation to support my education will not only benefit me, but will be passed along to each and every student in my classroom, and hopefully to future generations of EOU students when I am financially able to pass the generosity forward.
I am proud to be a Mountaineer and am so grateful to the EOU Foundation for helping make my education and career possible. Go Mounties!"
Don and Zola Dunbar
Scholarships and the GI Bill made it possible for Don and Zola Dunbar to attend EOU in the 1940s when it was Eastern Oregon College of Education. Although they left to complete advanced degrees at another university, they remain loyal Mountaineers.
Don is a World War II veteran of the Pacific Theater where he served with the 13th Engineer Combat Battalion, 7th Infantry Division. His parents were Scottish immigrants who settled and began farming in Gilliam County in the early 1900s. Zola's roots are also in Gilliam and nearby Wheeler County, home base for her grandfather's traveling ministry and family farming operation. She completed all 12 grades in a one-room school before leaving to attend Eastern and was later joined by Don following his military service and engineering work with the State of Oregon Highway Department.
The Dunbars went on to spend a combined 68 years working in public education, and have experienced the influence of EOU graduates in classrooms and school administration across the state. They also know personally what a help scholarships and other funding can be for students.
That's why Don and Zola established a scholarship at the university that set them on course toward meaningful and successful careers. The Dunbars' scholarship is renewable and available annually to an Oregon student enrolled full-time in EOU's CUESTE program.
Gerald E. Young Endowed Scholarship Fund
The formation of the Gerald E. Young Endowed Scholarship Fund signifies the fulfillment of a keen desire to make a difference in the lives of others. It was always Gerald's (fondly remembered as "Jerry") dream to set up a scholarship to benefit EOU students.
During the more than three decades spent at the university as a faculty member, dean and later president of the EOU Foundation, Jerry touched the lives of many. Following his death in 2009, Jerry's wife Arlene and their family came together and with the help of the EOU Foundation established a permanently endowed scholarship in his memory.
A permanently endowed scholarship can be established for a minimum $30,000 gift. For greater flexibility, the amount can also be pledged over a five-year period. Interest earned in perpetuity from these funds provides scholarships and long-term support for students.