Gleeson Scholarship Fund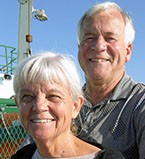 Gleeson Scholarship Fund
Timothy and Linda Gleeson, of La Grande, established a fund that will provide two or more students with a minimum $1,000 renewable award each year beginning in 2015-16.
"We want to make an immediate impact in the higher educational lives of students," said the Gleesons, who created the scholarship in part due to their ongoing commitment to the university and region. "We truly love EOU and what it means to the community, and we feel that a strong on-campus student population is key to both the future of EOU and Union County."
The Gleeson Scholarship Fund is intended to benefit students with a GPA of 3.0 or higher with demonstrated financial need. Preference will be given to incoming freshmen, but students at all levels are invited to apply. Consideration will also be given to applicants with non-academic, extra-curricular activities and experiences.