Senior EOU art students exhibit works inspired by nature
The second in a series of exhibitions featuring the work of senior EOU art students opens in Nightingale Gallery with a reception from 6-8 p.m., Friday, April 26
Matt Orthmann, Jake Wilcox and Amanda Yates all create work based in nature and concerned with the misdirection of the audience, thus the title of their exhibit: "The Nature of Deception."
"This exhibit will showcase their investigation of these ideas and they invite the community to participate in that exploration," said Cory Peeke, associate professor of art and gallery director at EOU.
Orthmann is a blacksmith, and using his skills at the forge, he explores bringing elements of nature to life in the medium of steel. His functional sculptures question the relationship of the artist and craftsman. His pieces examine how the aggressive creative process of working with fire and twisted metal in the forge can create beauty, delicacy and functionality.
Wilcox is a sculptor who grew up learning how to be prepared for any situation. As a boy scout, he learned the importance of survival and uses this as a reoccurring theme in his art. Exhibited as installations, his handcrafted functional furniture pieces each contain surprising secret compartments. These hidden elements question ideas of paranoia and protection, while recurrently expressing his need to be prepared.
Yates is a painter from Lakeview. She grew up seeing death and decomposition in the natural world and uses these themes as inspiration for her work. Her large paintings question our perception of violence in nature and in the media. Influenced by the news, television, Internet and videogames, her works depict vicious scenes of animal cruelty and war, and examine the fundamental reasons for such conflicts, as well as the horrific beauty of the violence itself.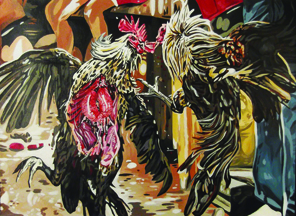 "The Nature of Deception" will run through May 10 in Nightingale Gallery located in Loso Hall on the EOU campus. Gallery hours are 11 a.m. to 4 p.m., Monday through Friday. For more information visit \ www.facebook.com/NightingaleGallery.