EOU Governance

PUBLIC NOTICE
Alumnus named Eastern Oregon University president
News contacts:

Tim Seydel | Vice President for University Advancement | 541-962-3740 or 
tseydel@eou.edu

Laura Hancock | Communications Coordinator for University Advancement | 541-962-3585 or 
lhancock@eou.edu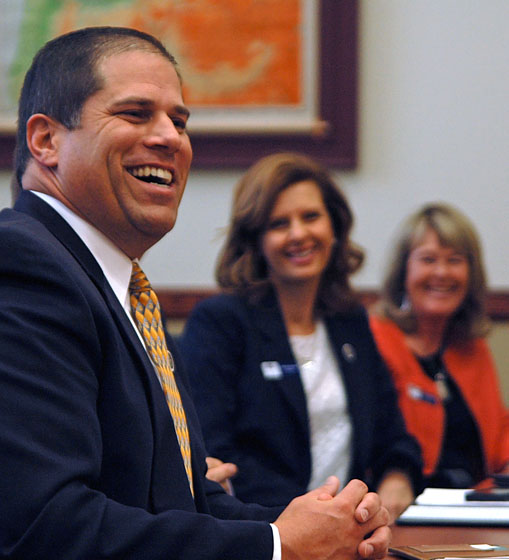 May 12, 2015
LA GRANDE, Ore. (EOU) – An Eastern Oregon University alumnus has been selected as the institution's 12th president.
Tom Insko, area manager of Boise Cascade's Inland Region in La Grande, will assume his new role July 1, the same date EOU's Board of Trustees will also take on governance responsibility for the university. Jay Kenton, current interim EOU president, is retiring in June.
Cathy Dyck, interim chancellor of the Oregon University System, made the announcement earlier today during a public meeting of the State Board of Higher Education that was streamed live on EOU's campus.
Members of the EOU Board of Trustees, students, faculty, staff and community members gathered in the Dixie Lund Boardroom in Inlow Hall to hear the news. The state board selected Insko based on the recommendation of EOU's board and Dyck.
"It's very exciting and humbling to have this opportunity to come back to EOU in this capacity and be part of a great team and work together to create an even more fantastic future for this university," Insko said.
One of the first things he plans to do as president is listen.
"I plan on spending a lot of time finding out what faculty, staff and students consider our value proposition to be and understanding their hopes, dreams and vision for EOU, so that together, we can begin to develop a strategy for success for the university."
Insko currently oversees multiple Boise Cascade operations for northeast Oregon, northeast Washington and southwest Idaho. He has been with the company for 20 years with roles ranging from administrative analyst to area manager with responsibilities for all inland manufacturing facilities and sales organization for the composite panel business.
He also manages state and federal forest policy for the company and serves on the Oregon State Board of Forestry and the Western Resources Legal Center.
Insko's ongoing involvement with the university includes two terms as president of the EOU Foundation and several years as a Foundation trustee. He is also a member of EOU's newly formed governing Board of Trustees.
A native of eastern Oregon, Insko grew up on a family farm 35 miles north of La
Grande. He earned two degrees from EOU in mathematics and business economics and played intercollegiate basketball for the Mountaineers. He holds a master's of business administration from the College of William and Mary in Williamsburg, Va.