Nancy Knowles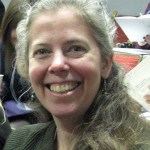 Contact Information
Email: nknowles@eou.edu
Phone: 541-962-3795
Office: Loso Hall 146
Personal Website
Reading Blog
Email is my favorite mode of communication, but I generally have 200 new emails at any given time. To stand out from the crowd, stop by my office, phone, or email again. I am not intentionally ignoring you.
---
About Dr. Knowles
The daughter of two architects, I grew up in Irvine, CA. I loved to read and wanted to be a writer, but I thought I should have an exciting life to write about, so I spent two years at Georgetown University's School of Foreign Service before realizing I was monumentally bad at economics. I taught English in Japan for two summers and completed my BA in East Asian Studies at UCLA, already knowing I really wanted to be an English major.
After working in business management in the entertainment industry, I entered the master's program at Humboldt State University where I earned two degrees in English and became a fellow of the Redwood Writing Project. I also fell in love with teaching. I completed my PhD at the University of Connecticut and worked as an assistant in the Connecticut Writing Project before moving to La Grande in 2000 to join the English/Writing faculty.
I directed the Oregon Writing Project at EOU from 2003-2015. I have a daughter, two pushy dogs, and a cat named Ichabod.
Professional Credentials
PhD English Literature, University of Connecticut, 2000
Redwood Writing Project Fellow, 1996
MA English Literature, Humboldt State University, 1995
MA Teaching Writing, Humboldt State University, 1995
BA East Asian Studies, UCLA, 1990
Publications
"Translation, Transformation, and 'Taking It Back': Practices for Moving from Face-to-Face to Online Writing in the Disciplines and What We Learned Along the Way." With Heidi Skurat Harris, Tawnya Lubbes, and Jacob Harris. The WAC Journal 25 (2014): 106-26. http://wac.colostate.edu/journal/vol25/harris.pdf
"Imperial Attitudes in Mary Elizabeth Braddon's Lady Audley's Secret." With student Katherine Race Hall. New Perspectives on Mary Elizabeth Braddon. Ed. Jessica Cox. Rodopi, 2012.
"Active Pacifism in a World at War: The Legacy of Virginia Woolf's Pacifist Theory on Narrative Structure." The Theme of Peace and War in Virginia Woolf's Writings: Essays in Her Political Philosophy. Ed. Jane Wood. The Edwin Mellen Press, 2010.
Awards
Distinguished Teaching Faculty 2011
Woman of Courage and Vision 2010
Grants
$500K+ in successful grants
$50K+ in successful grants written by students
Classes
English 136 Themes
English 201 Shakespeare
English 339 Genres (Novel, Gothic, Road Narratives)
English 371 British before 1800
English 372 British after 1800
English 390 Multicultural Literature/Film (India, Nigeria, South Africa)
English 395 Gender in Literature/Film (Women's SF)
English/Writing 401, 403, 406 Capstone Sequence
English 436 Themes (Peace and War, Eastern Oregon Literature)
English 446 Critical Theory
English 448 Major Authors (Tom Robbins, Virginia Woolf, Charles Dickens, Margaret Atwood)
English 507/Education 508 Oregon Writing Project
Writing 121 Expository Prose Writing
Writing 329 Grantwriting
What Literature is to Me
What Literature Is to Me: Literature is a message from one person, place, and time to another, coded in a form that conveys meaning on several frequencies at once, including the aesthetic, intellectual, and emotional. Like any art form, literature may be beautiful, troubling, and entertaining all at once. For this reason, literature has the potential to communicate a more profound and memorable message than informational texts.
Literature also evokes a more complex response than informational texts. Reading literature involves an imaginative process by which we enter into the lives of characters and/or gain pleasure from the artistic arrangement of details.
Through entering into the lives of characters, we may learn to think outside the confines of our lived experience, to understand other people and cultures, to value individual and ordinary experiences, to imagine better futures and long for justice (Pontusco and Thornton 65), and to better understand ourselves (Felski 7).
While gaining pleasure from the artistic arrangement of detail, we learn to think aesthetically, beyond the boundaries of logic, to grasp meaning intuitively and extend it imaginatively. This kind of thinking grounds major discoveries that extend understanding beyond the known and into the unknown.
Practicing imaginative reading, therefore, may help develop not only comprehension but also compassion, cultural awareness, ethics, self-understanding, and creative and critical thinking, all skills valuable to our own quality of life and in families, college, the workplace, and the community.
Scholars write about and research literature as a means of commemorating and lengthening the pleasure of reading; of better understanding the artistic techniques that evoke that pleasure and the aesthetic, intellectual, and emotional responses to that pleasure; and of preserving and sharing those profound moments of communication with colleagues, students, family, friends, and the community.
Works Cited
Felski, Rita. "Remember the Reader." Chronicle Review 55.7 (19 Dec. 2008): 7.
Pontuso, James F. and Saranna R. Thornton. "Is Outcomes Assessment Hurting Higher Education?" Thought & Action (Fall 2008): 61-69.