Conferences
Northwest Undergraduate Conference on Literature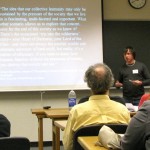 On April 13th, 2013 the University of Portland will be holding the tenth-annual conference for undergraduates: the Northwest Undergraduate Conference on Literature (NUCL).
This year's submission period will run from December 1, 2012 to January 21, 2013.  Please encourage your students to submit early, ideally before leaving for winter break!
For more information, see the conference website at http://college.up.edu/English/nucl.