Records Privacy Information
Records Privacy Information (FERPA)
Student records are protected by the Family Educational Rights and Privacy Act (FERPA), these are federal regulations which assign rights to students and responsibilities to educational institutions regarding students' education records. The Act governs the maintenance and release of information from those records. The information provided on this web site is for informational purposes only. Questions should be referred to the Registrar's Office at 541-962-3607 or by emailing registrar@eou.edu.
To see how FERPA regulations apply to you, select your visitor type from the list.
Students
Parents
Faculty and  Staff
————————————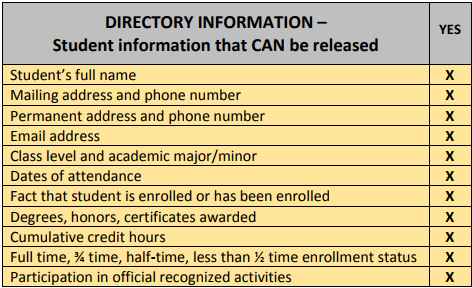 The Family Educational Rights & Privacy Act (FERPA) can be defined as: "A federal law designed to protect the privacy of education records, to establish the right of students to inspect and review their education records, and to provide guidelines for the correction of inaccurate and misleading data through informal and formal hearings."
Oregon law prohibits EOU from giving parents access to student information except with the student's voluntary written consent. EOU may release student information to parents only with the written consent of the student – regardless of the student's age, or whether the student is a legal dependent of the parent, or whether the parent pays the student's tuition and school expenses. NOTE: FERPA does not allow us to give information such as grades or GPA over the phone or via e-mail, even to the student.