Records Privacy Information
Records Privacy Information (FERPA)
Student records are protected by the Family Educational Rights and Privacy Act (FERPA), these are federal regulations which assign rights to students and responsibilities to educational institutions regarding students' education records. The Act governs the maintenance and release of information from those records. The information provided on this web site is for informational purposes only. Questions should be referred to the Registrar's Office at 541-962-3607 or by emailing registrar@eou.edu.
To see how FERPA regulations apply to you —
FERPA Guidelines Page
§ 99.30 (prior consent required)
§ 99.31 (prior consent not required)
§ 99.37 (disclosing directory information)
————————————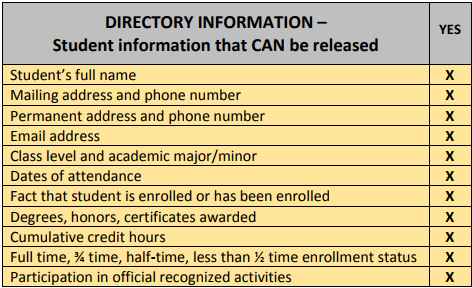 Definitions
Custodian Individual or unit that maintains any student-identifiable records.
Directory Information Term defined under FERPA; which allows certain information about students to be published or released by the institution without consent of the student.
Education Record(s) 
The meaning of "education records" is, with certain exemptions as listed below, those records, files, documents, and other materials that contain information directly related to a student, and are maintained by any employee or contractual agent of the university.

Records that pertain to an individual's attendance as a student, regardless of when they were created or received by the institution, are education records.

The following categories of information are exempted and are not considered to be "education records:"

Records made by university personnel that are in the sole possession of the maker and are not routinely accessible or revealed to any other person.
Records created and maintained by the Office of Public Safety for law enforcement purposes.
Medical and counseling records used solely for treatment. (Medical records may be personally reviewed by a physician of the student's choice.)
Post-enrollment records related to a former student that do not pertain to an individual's previous attendance (alumni records).
Family Educational Rights and Privacy Act of 1974 (FERPA) Federal law governing access to records maintained by educational institutions and the release of information from those records. FERPA requires the institution to send a notice to enrolled students annually.
Confidential Records A students records can be marked as confidential. If records are marked as confidential they cannot be released to anyone, even the student who owns the records. A student identified as confidential will not show on a published deans list or other published material. If you need to mark you records as confidential, or remove the confidential flag from your record, please use this form Update Confidential Status Form.
Note for students and parents
FERPA prohibits EOU from giving parents access to student information except with the student's voluntary written consent. EOU may release student information to parents only with the written consent of the student – regardless of the student's age, or whether the student is a legal dependent of the parent, or whether the parent pays the student's tuition and school expenses.
**FERPA does not allow us to give information such as grades or GPA over the phone or via e-mail, even to the student.