"Yes, and…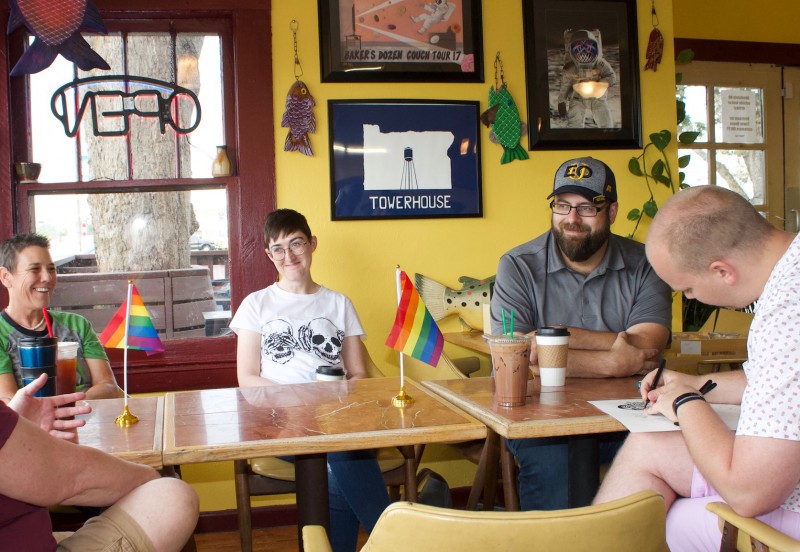 Improv comedy relies on a central principle called "yes, and" that dictates participants respond to new ideas or actions from their peers with the phrase, "yes, and."
Two actors are pantomiming a dinner scene when another walks on stage and asks whether his pet skunk is welcome in the restaurant. One of the diners reaches in his pocket and says, "Yes, and he'll get along great with my new pet tarantula!"
Christopher Plummer, '02, spent time in Chicago's famous improv schools after he left Eastern Oregon University with a theatre degree, but he said the "yes, and" rule meant even more when he returned home to Ontario, where he'd grown up and earned his associate degree before transferring to EOU.
"I had the highest of highs and lowest of lows in my life after moving home to Ontario," he said. "Ontario had been a 'no, but' place in the past — my goal is to make it a 'yes, and' town."
Shortly after moving home to live with his grandmother, Plummer started dating a man who became controlling. The two broke up, but the man began stalking Plummer.
"He came to my house, and basically he punched me in the face and split my lips, so I started to panic and then he pulled a gun on me and held me at gunpoint for five hours," Plummer said. "I'd never been through anything like that in my life. I come from a place of privilege where that doesn't usually happen."
Plummer went to Project DOVE, a nonprofit that provides services for domestic violence survivors, for a restraining order. After he told the advocate he was gay, Plummer said she went to work providing services.
"They made space for me. They bent over backwards for me, and they saved my life," he said.
A new LGBTQI+ survivors group grew out of Plummer's experience. He said people who identify as lesbian, gay, bisexual, transgender, queer, intersex and other non-heterosexual orientations are often afraid to seek help for domestic violence and sexual assault. Plummer worked with DOVE staff to reach these communities in Ontario, the next closest one he found was in San Diego. He stayed on as a volunteer with DOVE and now serves as Outreach Advocate for the organization.
"As the work happened there, I got more keyed into the community," he said.
In the two years since the assault, Plummer has become a pillar of his community. He started a monthly LGBTQ brunch to create camaraderie among those who often feel lonely or unseen. He also initiated a fundraising campaign to replace the senior center's leaky roof. With fellow members of the Coalition for Ontario, he works to expand understanding and involvement in local civics, including volunteer and community improvement projects. Making use of his MFA, Plummer teaches improv classes to kids in the Latinx community. He also helped organize a city-wide Community Serve Day, when church-goers spend a day organizing the food pantry, painting a bridge or working in a garden.
"When I moved back, there were a lot of people who didn't have hope," Plummer said. "My friends and I wondered what could we do to give people a little bit of hope. It's fun to see, little by little, these pieces come together."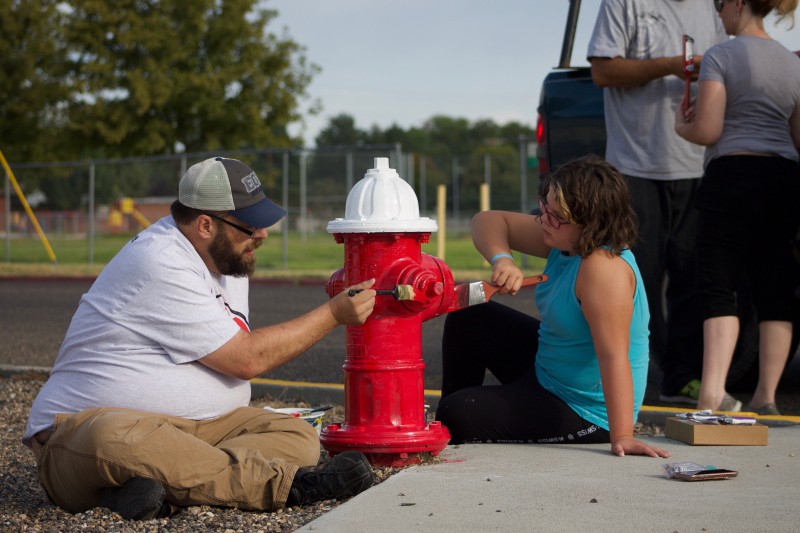 In Chicago, Plummer had worked corporate jobs and participated in large protests, but he said the return to Eastern Oregon reaffirmed his commitment to family and positive action.
"I used to be really critical and negative, and it led me down some pretty dark paths," he said. "I just got tired of it and decided to focus on solutions."
The bitterness and anger he felt after attending demonstrations in Chicago didn't work in his rural town of less than 12,000 people. But his passion for affecting change found its perfect fit.
"One of the things I learned from EOU, is that you can be in a small town and never, ever be bored. There are so many opportunities to be part of something."
"There's a lot of need in Chicago, but it's hard to affect change you can see directly," Plummer said. "In Ontario, I can go and stand with seniors and say, 'You deserve a roof that doesn't leak in your food,' then you put the work in and they see the first couple thousand dollars come in. You can see that appreciation on their face and how they carry themselves."
Plummer said his 96-year-old grandma inspired the project. When his many commitments begin to seem like too much, he said living with and caring for her keeps him grounded in routine.
"I promised my grandma when I was 7 years old that she would never go to a nursing home, and I meant it," he said. "Every Friday we go to seniors' lunch, we watch movies and eat together, we go on long drives on Sundays and stop for ice cream or coffee. I have to protect that relationship."
Nonetheless, he said his Saturdays keep filling up with new projects: a mud volleyball fundraiser for the Tri-County Anti-Trafficking Task Force, or giving the local fire hydrants a fresh coat of paint.
"One of the things I learned from EOU, is that you can be in a small town and never, ever be bored," he said, remembering his years on campus as a golden era when he came out for the first time and built close friendships. "There are so many opportunities to be part of something and help in Ontario. I came home to do good things in a community that gave me everything."
Plummer said some of his friends from improv groups in Chicago are on Netflix now, and he's happy for them, but still feels he made the right choice in coming home to be with his grandma.
"My family is everything to me," he said. "I found that when I was onstage doing anything in Chicago I kept looking out for my family in the audience and they were never there. It was a hollow feeling, and it made what I was doing kind of ridiculous. I only have my grandmother for a certain amount of time, so I didn't want to miss out on that."
Yes, and he found a way to keep making people smile.