Living in Neon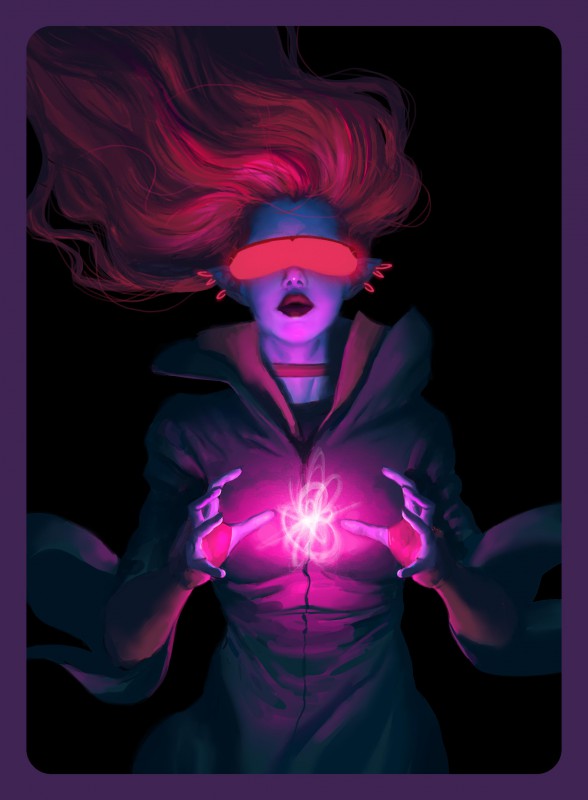 Rebels on homemade motorbikes clash with gleaming cyborgs in the cyberpunk landscape of Neon District. The soon-to-be-released video game is the brainchild of Blockade Games CEO Marguerite deCourcelle, '09. Hidden riddles and surprise attacks await players in the painterly tech-noir environment.
"I've always been interested in how art, science and technology crossover to create interactive experiences," she said.
Neon District's innovative approach integrates grassroots puzzle-solving with a new kind of utilitarian artistry. DeCourcelle, an art alumna turned creative technologist, stepped onto the Bitcoin scene in 2013 and realized that art could play a role in the emerging marketplace. Bitcoin mining involves a network of computers using algorithms to solve a puzzle. Why couldn't people do something similar? So she created the first crypto-puzzle in 2014, a painting called The Dark Wallet.
"There's a 30-page walkthrough that lays out the whole trail, but the image is basically a portal to multiple platforms across the internet. It's a rabbit hole that keeps leading you back to the painting for the next clue," deCourcelle said. "I wanted to mimic the concept of Bitcoin mining by creating an image that holds secrets."
The painting garnered huge attention and spawned a new outlet for the growing Bitcoin community. DeCourcelle is more interested in bringing people together around a digital puzzle than making money, she said. But her puzzles continue to serve tech companies and organizations by engaging users.
"The most incredible art pieces become special because of their lore," she said. "The stories and secrets you can unravel take art beyond something nice to look at, into something you can interact with."
After graduating from EOU, deCourcelle focused on traditional fine art for about four years before moving to the very cutting edge of what curators consider artwork. DeCourcelle said the crypto-puzzles demonstrated, "you can pull value out of art." But she's not talking about the price of paintings hung in a gallery. DeCourcelle trades in art with utility.
If an artist creates a texture for a jacket that video game characters wear, every time players trade or re-sell the jacket, a fee goes to the artist. DeCourcelle said consumers, sellers and artists all win with this decentralized arrangement, in which digital assets maintain their bond with the original artist. Likewise, players in this system own the game assets they invest in, and can carry them into other games. The idea has been around for decades, but recent advances in blockchain technology make it possible to monetize the exchanges.
DeCourcelle, a fine art major who now uses her skills in digital media, founded Blockade Games in early 2018. Today it employs over a dozen people across the globe and produces several blockchain-based games and interactive experiences.
"Blockchain is to Bitcoin, what the internet is to email," Technology Reporter Sally Davies said. "A big electronic system, on top of which you can build applications. Currency is just one."
Blade Runner meets Terminator in Neon District, the company's largest undertaking yet. The party-based role-playing game sends a group of characters, equipment and other assets through a series of challenges against robot enemies. Unlike other video games, weapons, clothing and armor in Neon District evolve with each triumph or defeat, and become more valuable as gameplay progresses.
The blockchain allows players to buy, sell and trade the crypto-collectibles among peers and across platforms. Industries from stock trading, to business contracts, voting polls, file storage, identity protection, and land title registration could soon benefit from the transparency and security of blockchains.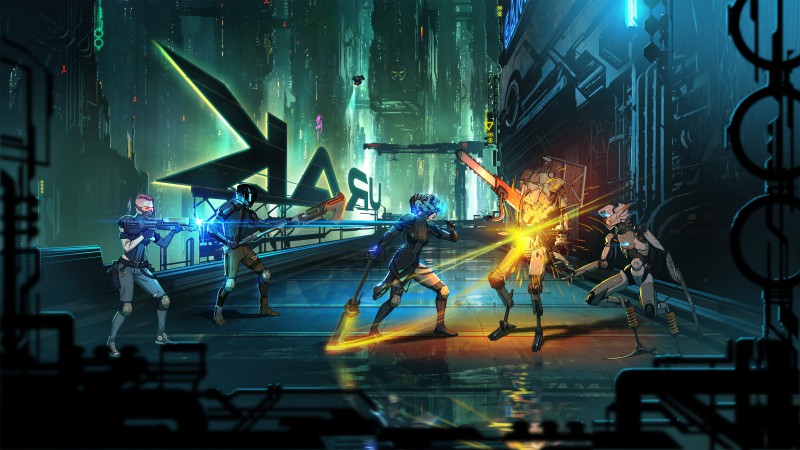 Blockade Games employs a number of independent artists, fulfilling deCourcelle's aim of freeing her peers from the paradox set up by the conventional art world. She said creative technologists have often been excluded from opportunities to make a living from their most innovative work. Her company opens the door for artists and developers to invest in passion projects without sacrificing their own financial stability.
"Video games aren't considered fine art, but 50 percent
"That's the thing about being an entrepreneur … You have to take hard hits, then get back up and try to do better. That's the differentiator between being successful or not."
of game development is really intense art production," she said.
DeCourcelle oversees game development for all of the company's products, including its free mini-games like Plasma Bears and the Pineapple Arcade. She also heads its strategic marketing and fundraising efforts. Neon District, which launches a private beta version on May 1, is already valued at more than $13 million.
"Making a video game, especially a fun one, is very difficult," deCourcelle said.
As the company has grown, deCourcelle has learned to navigate the rocky terrain of managing finances, employees and production simultaneously. She said early mistakes taught her to identify the organization's priorities and adapt quickly to change.
"That's the thing about being an entrepreneur," she said. "You have to take hard hits, then get back up and try to do better. That's the differentiator between being successful or not."
Blockade's staff is fully distributed: they all work online, meet through video calls, and maintain ongoing chat threads that keep team members in touch. The company's business model mirrors the blockchain itself, decentralizing an entire office. The TechStars incubator connects start-ups with "a network of people who will be successful alongside" one another. This spring, deCourcelle's team is one of just 10 young companies participating in the New York City accelerator's blockchain-focused program.
"We're in a good position to show vision for the industry and it's exciting to be there as a pioneer," deCourcelle said. "We want to help steer the course of where these blockchain applications can go in a crossover with game development."

---