Oregon Teacher Pathway
---
What is the Oregon Teacher Pathway (OTP) Program?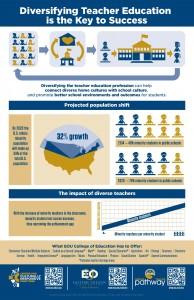 The Oregon Teacher Pathway program (OTP) aims to close the academic achievement gap in Oregon public schools by producing more quality diverse teachers and develop teachers trained in culturally responsive practice. The program also focuses on recruiting, educating, and retaining pre-service teachers of color and preservice teachers interested in learning culturally responsive practice.

Ethnic and linguistically-diverse students make up a third of the student population in Oregon public schools where the majority of teachers are predominantly white females.
OTP is based on research, which shows that students of color achieve higher academic success when exposed to teachers of color and teachers trained in culturally responsive practices.
---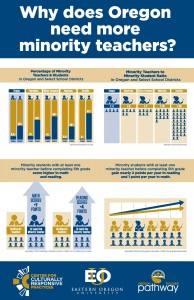 OTP also seeks to further student accomplishment by partnering with local schools and community organizations in recruiting, retaining, supporting, and employing these students upon completing their teacher licensure program. Oregon Teacher Pathway is affiliated with Pathways2Teaching.
---
---