The science of success
EOU alum's company brings jobs, medical services to rural regions
By Katy Nesbitt
More than 3,500 healthcare providers throughout the Pacific Northwest depend on Interpath Laboratory for timely and accurate results — often overnight. Alumna Judy Kennedy, '88, leads the company alongside her husband Tom.
Headquartered in Pendleton, Interpath's three healthcare companies employ over 1,000 people, including lab technicians, medical technologists, IT specialists, physicians, and human resources staff, as well as drivers who collectively rack up 10,000 miles every day collecting and delivering specimens. These couriers uphold the heart of Interpath's principles — to provide quality medical results for patients in rural areas.
Many of Interpath's 68 locations are outside of metropolitan areas, but Kennedy said they often win out over national chains with longer turnaround times. The Pendleton headquarters is the largest laboratory, employing 170 people, with a number of EOU graduates among them.
Kennedy said about 60 to 70 percent of all decisions to diagnose, treat, monitor or admit someone to a hospital are made using lab information.
"Every night we are making critical value calls," Kennedy said. "We take orders and we test and we grow every year because people know we are reliable and service-oriented, and that comes from the people who work inside."
Kennedy said laboratory testing has evolved rapidly over the last 10 years due to technological advances.
"Our technologists calibrate machines at least daily, creating control process that keeps values very defined," Kennedy said. "We have to have quality, capable people to run those tests and we look hard and long for those folks."
Sashka Zungul, '12, has been with Interpath for five years. Like many technologists, she was a pre-med major. When she decided to pursue research in a clinical setting she stumbled upon a phlebotomy internship with Interpath in what she called the "hidden world of the medical professions."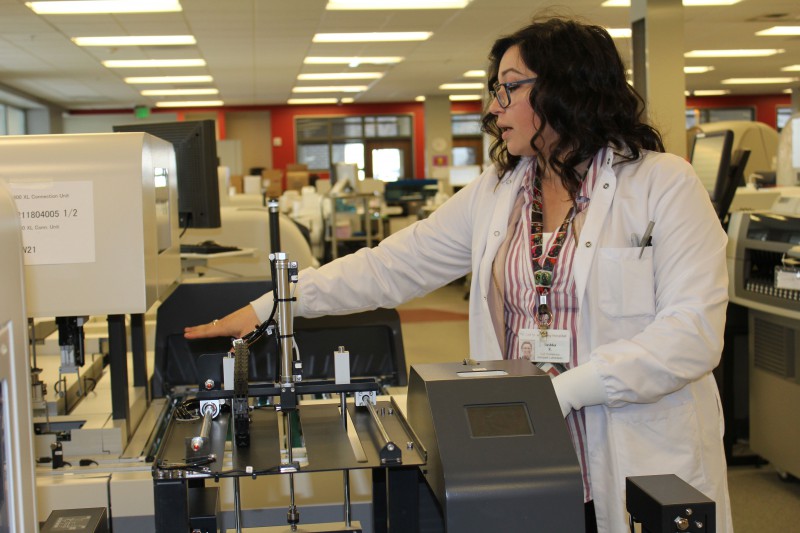 "I went from collecting blood to being a technical assistant, then I got additional education and certificates to become a lead technologist," Zungul said. "Now I manage our chemistry and hematology departments – quite a leap from not knowing Interpath existed five years ago."
Lately, she's been overseeing the introduction of further automation. A new lineup of machines will sort and siphon patient samples more accurately and efficiently than humans can. Zungul said speedier processing supports Interpath's expanding services. The lab conducted 90,000 tests in January alone.
They test for 300 types of allergies in one area, check for strep throat and E. Coli in another, and hold thousands of samples in walk-in fridges and freezers. Machines measure chemiluminescence, while scientists assess bacterial growth in petri dishes. Every night, couriers pick up and drop off specimens at the Pendleton lab. Kennedy said they're often able to post results within hours.
She and her husband Tom came to Pendleton when Tom was hired by Interpath as a microbiologist and medical technologist. He supervised the chemistry department and eventually became general manager.
A few years after the couple purchased the company, Kennedy left her job as an auditor with the U.S. Department of Agriculture to manage the sales department.
Career opportunities like those Zungul found encourage other employees to complete their education and move into positions that require two and four-year degrees, even those areas outside medical research.
"Our IT staff develops software and the working components of the lab," Zungul said. "We have a lot of different career avenues, like computer science and business, besides those for medical students."
In 2013 Interpath moved to a new building near Pendleton's St. Anthony Hospital, raising the profile of the company that has been in business since 1967. The facility houses human resources and billing staff, who support about 150 independent physicians.
"With the new building, the community could see a vibrant growing business right here in town," Kennedy said. "Students who come to us can see their position as the beginning of a full career."
With the onset of increasing automation, watchful eyes like Zungul's are needed more and more. Hyper-sensitive machines require constant human oversight. What automation offers in speed and precision, it often lacks in critical thinking and care.
"I tell our techs to think if each sample as one from your own grandmother," Kennedy said. "The work we do here has far-reaching effects."
---
Taran Goodwin shows Sashka Zungul, '12, and Judy Kennedy, '88, a petri dish growing samples from a patient.
---
A Workforce of Women
Tom Kennedy owns Interpath Laboratory with his wife Judy, '88. Based in Pendleton, the company has 63 facilities around the Pacific Northwest and employs over 1,000 people. Tom Kennedy said Interpath Laboratory's growth and success is largely due to its staff members and their dedication to providing a quality service.
"My entire career has been focused in laboratory medicine and I've seen the progression of the medical laboratory scientist's work go from a very manual process to a highly technical platform where expertise in equipment and data technology are now the norm," Kennedy said.
Like nursing, women dominate the field of medical technicians and technologists.
"The women who work in the laboratory excel in this evolving industry and it is satisfying to see them become the leaders in their departments or laboratories," he said.
Interpath has collection sites and laboratories near hospitals and medical clinics, adding jobs to small communities and providing fast results and diagnoses to local patients.
"The laboratory offers a medical career that is not evident to most, but is a significant contributor to the welfare and health of patients," Kennedy said. "The most effective laboratorian seeks this challenging career that allows them to use their education and skills to help others."