Growing strong
Alumnae lead workforce development programs in Morrow County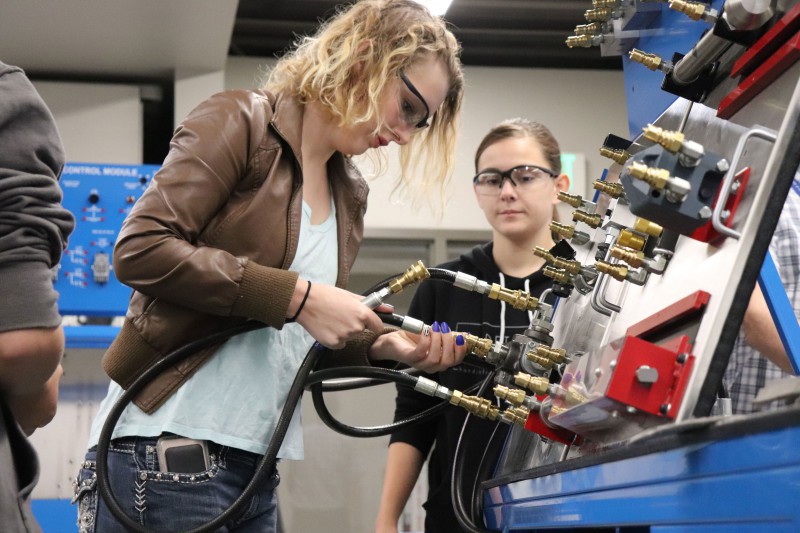 One of Oregon's most rural counties is home to one of its fastest growing centers of commerce. The Port of Morrow is the second largest port in the state, but the county's population density is less than six people per square mile. And developing its growing workforce has become a top priority.
That's where Kalie Davis, '07 and '12, and Jacque Noland, '06, come in. Davis serves as the Workforce Training Program Manager for the Port of Morrow, while Noland is the Senior Regional HR Manager for Lamb Weston, the county's largest employer.
Davis said economic development in the region has been happening for years without much recognition. Expansion at Lamb Weston and Tillamook facilities, paired with an increasing number of data centers and a new power station at the Port, created a host of new jobs. She said community programs and grants have recently seen equal benefits, such as childcare providers, a pool and recreation center, plus homebuyer incentives and apartment developments. Next, the county looks to use federal and state grant funds to improve transportation in the area.
"The Port is very proactive finding grant opportunities, but also re-investing back into infrastructure so we can continue to grow," Davis said. "We're really excited about the opportunities that will bring for employers and residents."
One such employer is Lamb Weston, where Noland oversees eight facilities that each have about 3,000 workers.
The plants make and package french fries and other frozen potato products for restaurants and consumers around the world.
"If you eat french fries, guaranteed you've eaten some of our fries," Noland said. "Lamb Weston is the largest producer in the US, and second-largest in the world."
The company makes fries for restaurants and grocery stores. Boardman alone is home to three large plants, and the finished products ship out of the Port of Morrow.
Davis' role at the Port puts her in touch with a range of businesses, collaborating to develop worker trainings and building relationships among organizations.
"Kalie has an incredible ability to collaborate with so many businesses and work toward their needs," Noland said.
Davis started working for the Port seven years ago as the first director of the SAGE Center. She described the organization as "a smaller scale OMSI," that promotes the region's sustainable agriculture and energy goals.
Two years ago, she shifted into her current role but continued introducing young people to the many career opportunities in rural Oregon as a member of the Greater Oregon
STEM Advisory Board. GO-STEM coordinates events and programs that
"It's intimidating to try something for the first time, and often [girls] don't know that there are actually a lot of women in STEM."
encourage middle and high school students to explore the science, technology, engineering and math fields.
"I thought GO-STEM was a great opportunity to bring the region together, network and share ideas," Davis said. "Figuring out projects that are beneficial to teachers and students, and sharing ideas that have been successful in other areas."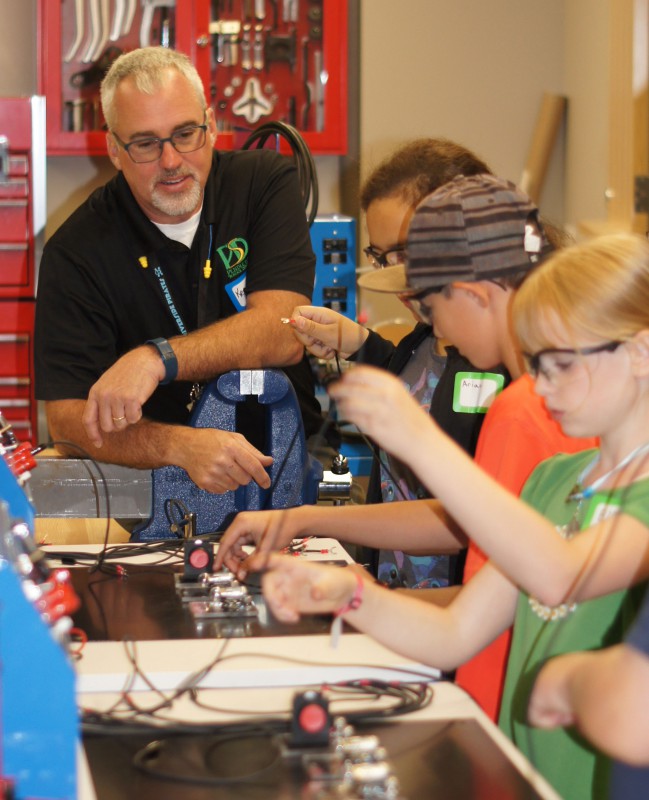 The first Nuts, Bolts and Thingamajigs camp took place last summer, and she said about 20 students got to try their hands at STEM and manufacturing careers. She said the experience was particularly meaningful for the girls who got involved.
"It's intimidating to try something for the first time, and often they don't know that there are actually a lot of women in STEM," she said. "We're always looking for more opportunities to expose them to those careers and be really informative about the pathways to get to the job they're really interested in."
Noland knew what career she was interested in from a very early stage, and waited for the exact opportunity to arise. About a year after she graduated from EOU with a business degree, she was hired as a human resources coordinator for a small farming operation. Less than a year later, Lamb Weston bought out the company and Noland started climbing the corporate ladder.
"When I graduated I didn't just want a job, I wanted an actual career where I could stay for a long time that would provide a lot of opportunity," she said. "I love the trust people have put in me to grow and stretch myself."
Originally from Hermiston, Noland said she feel fortunate to have built her career in a rural place. Lamb Weston is often present at career fairs on campus, and Noland said she hopes to open students' eyes to the possibilities that are right in their backyard.
Davis, too, works directly with future wage-earners. She's setting up an internship program that will connect high school students with jobs in the medical field, finance, manufacturing, tourism and agriculture. She arranges tours of the Port and Lamb Weston for junior high students, and coordinates a teacher externship program that gives educators a direct link to real-world applications for their classroom curriculum.
Both women have a passion for the people and place of Morrow County, and together they shoulder a significant responsibility for the success of both.
"We are both trying to make Morrow County a place where people are familiar with the opportunities in the area," Noland said. "We're trying to get qualified people to come to our area knowing that opportunities are available and there are plenty of them."
---