Good to the bone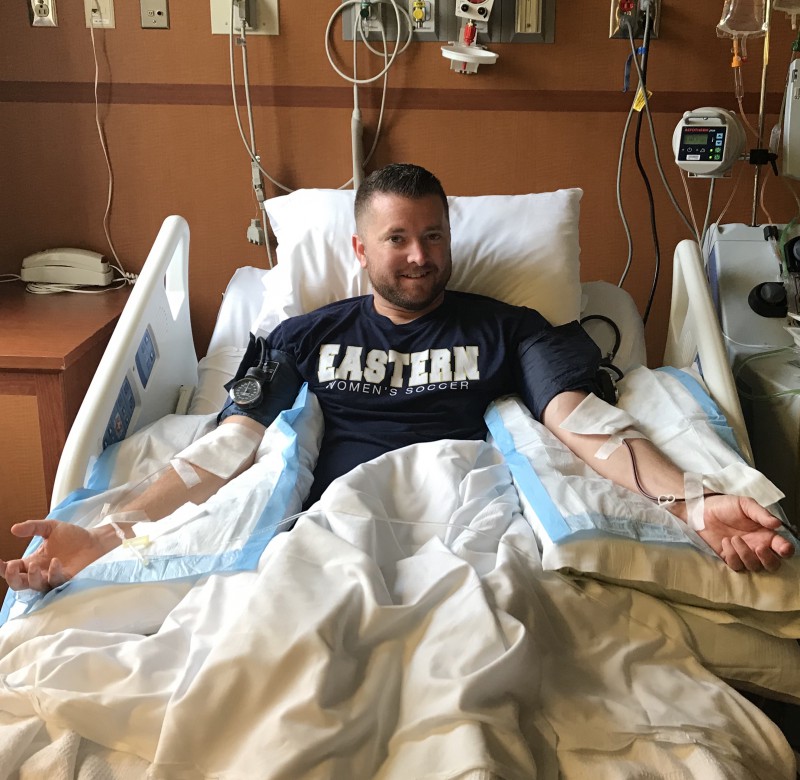 About one in 430 registered donors get matched with a recipient and successfully donate bone marrow. EOU Women's Soccer Coach Jake Plocher became one of them last May.
Plocher joined the registry of donors with a cheek swab in 2012 to support a soccer player who helped coordinate the drive on campus. Six years later, he got a phone call that there was a potential match.
The cheek swab collects DNA from donors to assess whether they might be able to provide bone marrow or other needed tissues for patients with blood cancers like leukemia.
"My dad had cancer and was in that situation," Plocher said. "I would hope that if anybody was in a position to help, that they would follow through."
And that's what he did. Additional lab work and blood tests confirmed that the match was viable, then Plocher flew out to Portland, where he received two shots a day for five days to increase the cells in his bone marrow. Extracting the bone marrow took six hours.
"I had a big needle in each arm, and I'm not a big needle person," he said.
Following the procedure, Plocher experienced bone and back aches, flu symptoms and fatigue.
"It was worth doing and I hope anybody who has the opportunity would do it," he said. "I got a little bit nervous, but I wasn't thinking of it as a big deal."
Giving back is an ingrained part of Plocher's paradigm for himself and his soccer players.
In 2018-19, EOU student-athletes volunteered for 6,967 service hours. Of those, 527 hours were by the women's soccer team.
"Altruism is something we preach within our program," he said. "We want to help these students become better people to benefit the community here and where they live."
When he came to the women's soccer program in 2017, he found plenty of talent but a lack of focus and team unity. In his first season as head coach, he brought the team together to win the regular season, as well as the Cascade Collegiate Conference tournament, for the first time in program history.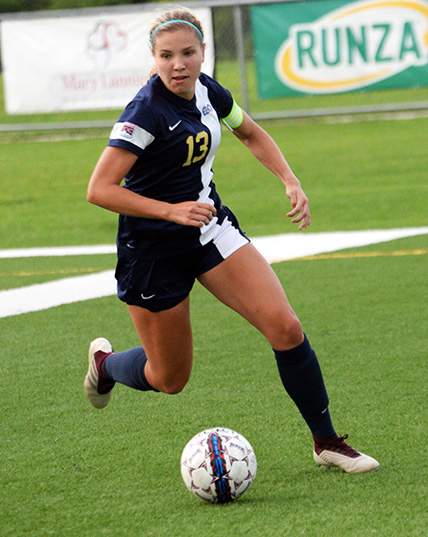 In 2018, the Mounties did it again and progressed to the second round of the NAIA national tournament to finish at No. 14. Their schedule is packed with top-25 teams this fall, and Plocher has his sights set even higher.
"There's been some buzz and momentum after the last couple of years, but every season is completely different," he said. "I want us to be a cohesive unit and make a run at another conference title."
New turf in Community Stadium has created an energized playing environment for both men's and women's soccer at EOU. High-quality facilities pair with Plocher's recent success to make EOU a tempting offer for new recruits. A large incoming class of freshmen and transfer student-athletes means competition among teammates will be high, which Plocher sees as positive.
"We should be an even deeper team than we were last two seasons," he said. "Being right there in the stadium under the lights brings a lot of energy, especially to big time games, and it creates the competitive atmosphere that everyone wants to be a part of."
Fully recovered from his surreal experience donating bone marrow last spring, Plocher brings common sense altruism to his team.
"It's just the values that were instilled in my upbringing — I wanted to be able to help someone," he said. "I don't know anything about the recipient, and it doesn't matter if I know them or not. It's what I hope anybody would do if they were in that situation."