A President from Pohnpei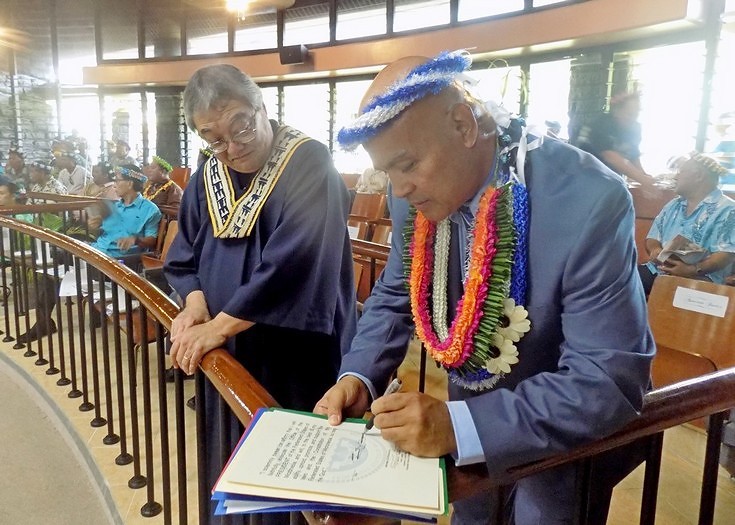 David Panuelo, '87, was sworn in as the ninth president of the Federated States of Micronesia (FSM) in May 2019.
Islanders make up a growing number of EOU students and alumni, doubling from less than 2% to more than 4% of the student body over the last three years. Long-standing connections between EOU and Pacific Islanders have expanded through word-of-mouth and ongoing recruitment efforts.
Located in the Pacific Ocean, north of Australia and west of Hawaii, the FSM is a sovereign nation of four island states, with 17 native languages and dialects. The United States and the FSM have an enduring partnership codified through the Compact of Free Association, which allows FSM citizens to work and study in the U.S. without a visa. At his August 5 meeting with U.S. Secretary of State Michael Pompeo, Panuelo reaffirmed that the United States is the FSM's "first and foremost ally."
During the FSM elections in March, Panuelo unseated fellow Pohnpeian and former President Peter Christian as the at-large senator for Pohnpei. In May, the FSM Congress selected Panuelo as president from the four at-large senators from each of the island states: Kosrae, Chuuk, Yap and Pohnpei.
After earning his degree in political science from EOU, Panuelo returned home to Pohnpei where he began his career in the FSM Department of Foreign Affairs. He served as a department director in Pohnpei, and then returned to Foreign Affairs as assistant secretary for the Division of American and European Affairs. Two years later, he entered the private sector and established a construction company, a human services company and the nonprofit Care Micronesia Foundation.
In 2011, he was elected Pohnpei state senator and served in that office until his election to the at-large seat in March.
Prominent alumni like Panuelo, as well as counselors and advisors, keep the relationship between our communities thriving.
---
Get to know the Federated States of Micronesia!
Test your knowledge of this island nation!
1. There are four island states, but how many individual islands are in the FSM?
A. 35
B. 252
C. 607
D. 812
2. About how many people live in the FSM's 271 square miles of land area?
A. 100,000
B. 50,000
C. 10,000
D. 5,000
3. David Panuelo, '87, is from Pohnpei, the largest island in the FSM and home of the capital city. Pohnpei is about the size of…
A. EOU Campus
B. Portland metro area
C. Union County
D. Rhode Island
Answers:
1. C, there are 607 islands spread across 1,700 miles of the Caroline Islands archipelago where the FSM lies.
2. A, about 105,000 people call the FSM home.
3. B, Pohnpei is 117 square miles and the Portland metro area is 145 square miles.
Sources: worldatlas.com, fsmgov.org