Welcome to EOU!  How can we help?
Student success is a priority at EOU!  First-Year Experience programs help guide first-year students through their academic and co-curricular experiences at EOU and assist them in becoming successful students. Engaging and integrated experiences are provided that assist students in developing critical thinking skills, health and wellness skills/behaviors, an understanding of their own values and beliefs, and exposure to and education about values and beliefs that may differ from their own.
Student success advocates can also help students navigate the ever changing world of college life, academics and finances.  We are here to answer questions you have and ones you don't even know you need to ask.
Contact Information – Kathleen Brown 541-962-3142
University Studies 101 meet your teachers for Fall 2018
UNI 101 is part of Eastern Oregon University's first year experience program. UNI 101 is a three-credit course designed to guide students to EOU resources and higher education culture. This course assists students in the development of intellectual, personal, and social skills, time management, study strategies, financial literacy and information literacy. Students will learn how different disciplines approach problems or questions from guest faculty members, while learning how to evaluate information, cite sources, and use information to develop questions appropriate for academic research. UNI 101 is required for all on campus first year students who enter EOU with less than 30 college credit hours, determined by placement.
CORE 101- Integrated Std Sem*GTW (Credits: 3) Gen Ed Core-Gateway Part of EOU's first year experience program, Core 101 is a 3 credit seminar intended for selected first year students who are part of the Integrated Studies
Program (ISP) and is linked with a WR 115 class in which the students are concurrently enrolled. Core 101 is designed to introduce students to the culture and traditions of higher education, the resources of EOU, and to assist them in the development of intellectual, personal, and social skills that will allow them to be successful at EOU and beyond.
CORE 102- Gateway Seminar*GTW (Credits: 3)Gen Ed Core-Gateway Part of EOU's first year experience program, Core 102 is a 3 credit seminar focused on personal assessment and exploration of career and college major choices. The course is intended to introduce students to occupational research, goal setting, and the relationship between college majors and careers.
ONLINE UNI 105 – Success In College (Credits: 2) This course is part of Eastern Oregon University's (EOU) First Year Experience program and is designed for online students with less than 30 credit hours. Students will examine topics and issues central to success in college. These topics will be addressed through learning activities centered on academic success, including exploration of resources and self-assessments. The course will allow students the opportunity to explore career fields and college majors. Online discussions and learning activities serve as an introduction to and preparation for further intellectual life and university-level study.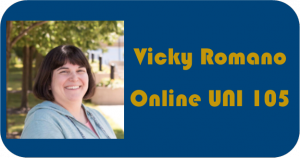 Enjoy the term and Go Mountaineers!