Collaborating Across the Urban-Rural Divide
September 12 – 21, 2019, Portland and La Grande
Eastern Oregon University (EOU) and Portland State University (PSU) are leading an effort, along with their community partners, to create an Urban-Rural Ambassadors Summer Institute, a two-week, six-credit residential summer institute for undergraduate students to explore urban and rural connections in Oregon, and to develop the collaborative skills to work across Oregon's urban-rural divide.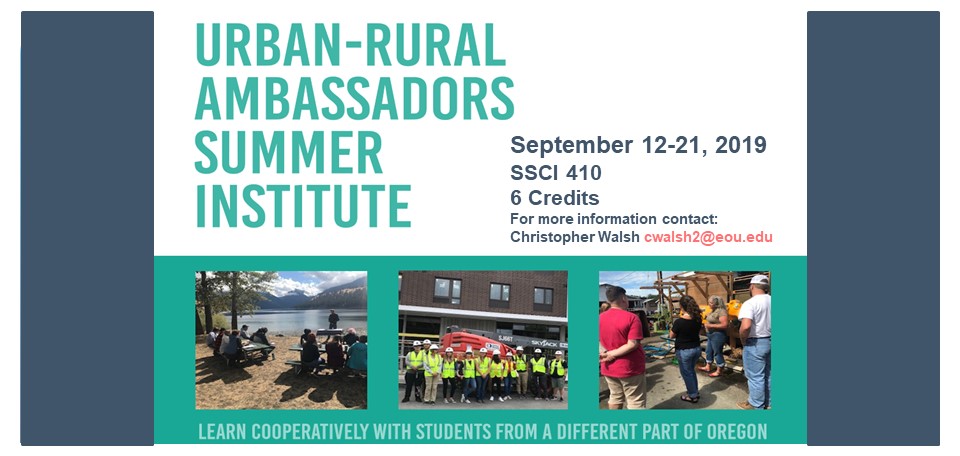 Advancing collaboration on urban-rural solutions
Students will spend half the time in La Grande studying rural issues and the other half in Portland studying urban issues. The institute will include field trips highlighting local issues and culture, and structured opportunities to speak with local leaders and community members. Class work will culminate in team work between urban and rural students, who will synthesize what they've learned in a short presentation that demonstrates their capacity to serve as urban-rural ambassadors who advance collaboration on regional solutions in their professional and civic lives. The institute will allow tomorrow's leaders to learn from each other about regional commonalities and differences. Students will develop the capacity to forge a path through the tension and stalemate that often characterize urban-rural debate, and to find solutions that fit local economies, values, and ways of life for the advancement of Oregon as a whole. Likely topics include: Land use and natural resources  Food production/food security, Housing and homelessness, and Environmental impacts
Endorsement from Governor Kate Brown
In April of 2018, Governor Brown visited Eastern Oregon University to sign a bill allocating $9 million toward building a field house on their campus. At the media event, she took the opportunity to announce Portland State's collaboration with Eastern Oregon University on the Urban-Rural Ambassadors Summer Institute.
"I am very happy to announce the launch of the Urban-Rural Ambassadors program. This is a new partnership with EOU and with PSU and Oregon Solutions. It will challenge students, whether from La Grande or Portland to provide creative solutions to meet the needs of our diverse communities and support our local thriving economies."
Read the full news story here >>>
Contacts
Doug Decker, Project Manager 503-901-5510 doug.decker@pdx.edu
Portland State University Megan Horst, PhD in Urban Planning, AICP National Policy Consensus Center 503-725-5946 mhorst@pdx.edu
Eastern Oregon University Nathan Lowe, Dean College of Arts, Humanities and Social Sciences 541-962-3098 nlowe@eou.edu
Eastern Oregon University Christopher Walsh, PhD in Chemistry Assistant Professor, Eastern Oregon University 541-962-3277 cwalsh2@eou.edu