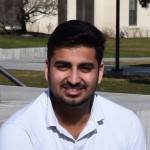 "I love EOU because of the amazing people who work here and the way they have their door always open for you if you have a problem. It is a very nice campus with small a class size and amazing teachers. Outside of class there are so many activities you can do that overall it's been an amazing experience here!"
Govind Brar

Ludhiana, India
"I attended EOU as a non-traditional student from 2011 to 2016. All of my professors and mentors during that time were phenomenal, I learned and grew so much as both a writer and a reader. I can honestly say that I would not be where I am professionally if it were not for their guidance and instruction. They were instrumental in helping me ...
Theresa Hamman, '14 & '16
B.A. in English/Writing (2014) Master of Fine Arts in Writing (2016)
La Grande, Ore.
"My time in the MFA program at EOU was the one of the most enriching and rewarding experiences for me as a writer. Working with my professors and classmates helped me gain confidence in my work and submit it for publication. Now, as a doctoral student in creative writing, I'm able to draw upon the extensive foundation of genres and writing ...
Amy Parker, '17
Master of Fine Arts in Writing
New York state