The right to remain buried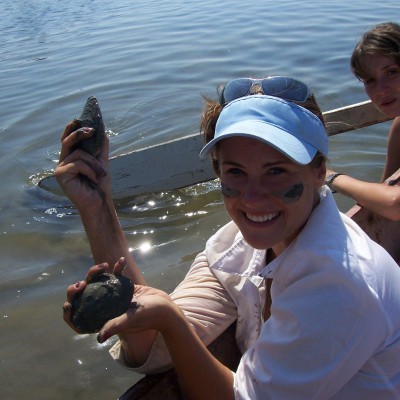 It's happened all over the world — in Slovenia, Indiana and the Arctic Circle — the remains of native people have been unearthed and carted away in the name of science. Anthropologists and archeologists who study ancient civilizations often come face-to-face with ethical questions about the rights of the dead.
Jayne-Leigh Thomas, '04, is one of them. After earning a bachelor's degree in anthropology and master's in cultural resource management, she knew she wanted to study human remains. Thomas spent seven years in Scotland, conducting doctoral research in Slovenia and the Middle East, before returning to the U.S. for her dream job at Indiana University-Bloomington.
Thomas coordinates the repatriation of human remains to Native American and Native Hawaiian communities. She directs the university's Office of the Native American Graves Protection and Repatriation Act (NAGPRA), ensuring that the law is followed at a university that houses one of the largest collections of Native American human remains in the country. She often works as a consultant or liaison between tribes and universities to support research, as well as compliance and respect.
"NAGPRA is essentially a human rights law," Thomas said. "It provides equal protection for Native American human remains."
A pivotal moment surfaced in 1976, when construction workers in Iowa hit graves while digging on a work site.
"Essentially, the white people were re-buried and the Native Americans went to a museum," Thomas said. "NAGPRA requires that we return human remains to their rightful communities for proper burial."
"I don't believe that remains belong on a shelf, but I understand that sometimes things happen."
Thomas, a former softball pitcher and All-American for the Mountaineers, has visited 21 countries and 37 states during her career. She travels almost every month for conferences, scholarly talks, research and repatriation.
"NAGPRA is about relationships," she said. "I go out to communities to meet people and talk to them."
In 2015, she spent 10 days in the Iñupiat community of Utqiagvik near the North Pole. A member of the community asked Thomas to personally escort their ancestors home and invited her to attend their annual whaling ceremony.
"I don't believe that remains belong on a shelf, but I understand that sometimes things happen," Thomas said. "They have a lot of scientific value, but if you're going to study them — study them and then put them back."
She's involved with an international organization that advocates for human rights for the dead. The group urges scientists to work alongside indigenous communities, by contacting religious and local leaders before analyzing or removing human remains. While some communities are interested in getting remains analyzed, Thomas highlighted the importance of seeking out answers rather than assuming they're unknowable.
"Nobody should just be considered a specimen," she said. "Funerals and wills are such an important part of our society today, so why would we think that 200 years ago that didn't matter?"
NAGPRA protects artifacts, too. In Thomas' words, "Why would you give grandma back, but not grandma's wedding ring?" Lately, she's branching out to international repatriation, which includes issues like Nazi-era stolen art.
"It's about making sure that we don't have something that we shouldn't and returning things to the people they belong to," she said. "It's not to say that you can't do research, but maybe you should ask the community first."
The work of defining and protecting human rights for the dead is full of complex questions. Thomas said she tries to communicate these intricacies to undergraduate students in particular.
"Sure, it's cool to go look at a mummy, but why has that become a spectacle while others get a proper burial?" she said. "I don't have the answers, but it's important that we think about it."