Preview Days
EOU Preview Days
Spend a day attending our super-sized campus event!
What is Preview Day?  It's an event designed to give you valuable insight into the many amazing opportunities available at EOU! We hope you'll take advantage of this opportunity to spend a fun and informative day on our campus. Just complete the registration form below and you will receive details on attending.
> Get one-on-one assistance with financial aid planning and your admissions application.
> Check out our Outdoor Adventure Program. Students check out equipment for FREE!
Preview Days in 2016-2017
*Attend a special presentation from our award winning science department and learn more about applying for our ASTEO Scholarship.
---
---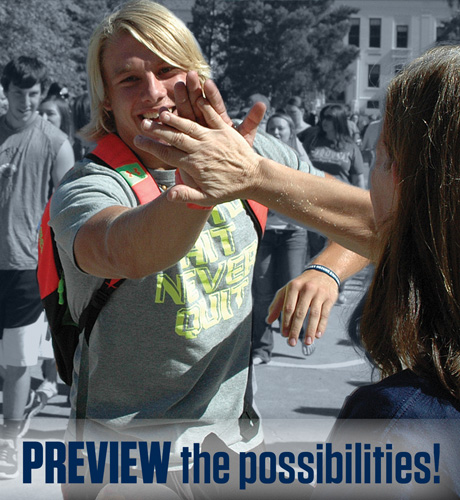 Can't make it to Preview Day? No problem!
---
For information about lodging in our area, visit the Union County Chamber of Commerce.
To cancel or make changes to your event registration, please call the Office of Admissions at 541.962.3393 or email us at admissions@eou.edu.
Share: