Information for Parents and Family
Resources
Below you will find some helpful resources to assist you in supporting your student's success at EOU.
• EOU Parents and Family Web Page– Contains various EOU Resources for parents and family members.
• EOU Counseling Center Brochure (Print Version) – Contains helpful information about Counseling Services at EOU.
• EOU Parent & Family Handbook – Contains helpful tips and information about campus life and resources.
Parents and Family Frequently Asked Questions
Below you will find answers to questions commonly asked by parents, family members, and loved ones of EOU students.  If you have additional questions, please contact the counseling center at 541-962-3524.  You can also find more information about our services in our Student FAQ.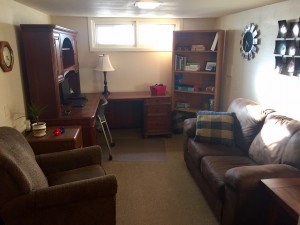 WHY DO STUDENTS SEEK COUNSELING?
Students seek counseling for a variety of concerns. The following are examples of the types of problems common to college students:
• Anxiety and depression
• Relationship issues
• Homesickness
• Eating behavior and body image issues
• Academic stress, test anxiety, and time management
• Grief and loss
• Concerns related to one's racial, ethnic, religious, sexual, and gender identity
• Physical, emotional, and sexual abuse
• Traumatic experiences
• Alcohol and drug use
IS MY STUDENT ELIGIBLE TO RECEIVE SERVICES? IS THERE A COST?
Our Counseling Center services are available to all students who have been assessed the Health Service Fee. Local students who have not automatically been assessed the Health Service Fee may "opt in." Please talk with the Student Health and Counseling Center front desk for more information.
CAN I MAKE AN APPOINTMENT FOR MY STUDENT?
We prefer students contact us themselves by stopping by the Counseling Center during one of our weekly drop-in times:
Monday and Wednesday: 9:30 AM to 11:30 AM
Tuesday and Thursday: 1:30 PM to 3:30 PM
We recommend stopping in early as our appointments often fill quickly. No appointment is necessary during these times. Arrangements may be made if these drop-in times do not work with a student's schedule.
WHAT IF MY STUDENT IS NOT WILLING TO GO TO THE COUNSELING CENTER?
It can be hard to see someone you love struggling. However, it is not only difficult, but often ineffective to try and make a person seek help if they don't want it or feel they need it. As a result, counseling with an unwilling client is usually not very helpful. You can remind your student that seeking help is a sign of strength and encourage them to utilize the Counseling Center as a resource to help with their success and development. Also, your student may feel less reluctant to visit the Counseling Center if you let them know that counseling services are confidential and free.
CAN I ACCESS MY STUDENT'S RECORDS?
All Counseling Center records are kept confidential in accordance with professional ethical standards and all state and federal laws regarding confidentiality. Student records can only be released to a third party with a student's written consent except under specific circumstances outlined in our confidentiality policy. Counseling Center records will not be a part of a student's academic record.
CAN YOU LET ME KNOW IF MY STUDENT HAS COME TO SEE YOU?
Part of being a confidential space on campus means that we cannot disclose whether or not a student has contacted us in the past or is currently receiving services at our center. If you would like to inquire about whether or not your student has accessed counseling, or if you know your student has accessed counseling and would like to know how it has been going, we will always encourage parents to speak to their child directly.
HOW LONG CAN MY STUDENT BE SEEN?
Each person who is seen at the Counseling Center will have a different treatment plan and will thus be seen for various lengths of time based upon their presenting issues, resources, and fit with the services that the Counseling Center has available. However, please know that we are doing our best to meet the growing needs of our students' with the resources we have available.
The Counseling Center does not have session limits. However, because we do not charge for our services, there is often a high demand for them. In an effort to meet the demand and see as many students as we can, we collaboratively work with students to ascertain if short-term therapy (1-10 sessions) would be sufficient to have a positive therapeutic benefit based upon their presenting concerns. If a student wants or needs longer-term therapy, has concerns that require multiple sessions per week, or are in need of a higher level of care, a referral to a mental health professional in the community may be made.
DOES THE COUNSELING CENTER PROVIDE PSYCHIATRIC MEDICATION?
The Counseling Center is staffed by mental health therapists that do not prescribe medication. We routinely refer students to the Student Health Center when they are interested in exploring medication options for their mental health concerns.
The Student Health Center is staffed by a Family Nurse Practitioner (FNP) and a Psychiatric Mental Health Nurse Practitioner (PMHNP). Both providers are able to prescribe medications for many mental health concerns. The EOU Student Health Center does not perform evaluations or prescribe medications for ADD/ADHD. If your student has an existing prescription for ADD/ADHD medication, they will be encouraged to continue their treatment relationship with their own provider. For more information, you can contact the Student Health Center at 541-962-3524.
WHEN IS THE COUNSELING CENTER OPEN?
The Counseling Center is open from 8:00 AM to Noon and 1:00 PM to 5:00 PM, Monday through Friday, with the exception of University and national holidays. The Counseling Center is closed for student appointments during the winter, spring, and summer breaks.
Back to FAQ
WHERE IS THE COUNSELING CENTER LOCATED?
We are located on the Northwest corner of campus, on 6th Street and L Avenue, across from the La Grande Police Department. We share a space with the Student Health Center (see "SHC" on the map below).