Leadership Opportunities on Campus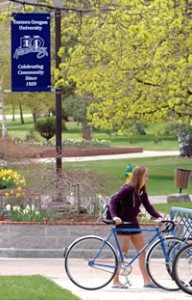 Our Residence Life program is a part of the office of Housing and Student Involvement and believes in the importance of providing opportunities for students to display their natural leadership qualities and to grow and develop new abilities as leaders. To that end, we want students to be aware of the following ways to get involved in student leadership.
Becoming a Resident Assistant
Applications for being a Resident Assistant are made available at the beginning of the winter term each academic year. Applicants are afforded interview opportunities based on experience and qualifications. Selected applicants from the pool are invited to enroll in the Residence Leadership Course during the spring term from which final RA selections are made.
Residence Hall Association
The RHA is the student government body for the residential students of EOU. It is comprised of, and represents, the student body living on campus. Executive Officers in the RHA are elected at the end of the previous year and the rest of the RHA body is elected by the residential population at the beginning of each fall term.
Student Clubs and Organizations
The Center for Student Involvement is the home of student clubs and organizations, as well as leadership societies. Through these groups, EOU residents have access to many opportunities to get involved on campus. For more information, click here.
Multicultural Center
The EOU Multicultural Center develops and delivers programs and services designed to support and retain students from socially and culturally diverse backgrounds. The center provides students a place to engage in multicultural activities and offers an inclusive educational environment that nurtures cross cultural communication and fosters the exchange of diverse perspectives and ideals. For more information, click here.
ASEOU
ASEOU Student Government advocates for students by representing their interests and welfare, seeking solutions to their issues, and working to create a student centered university. For more information, click here.