Diversity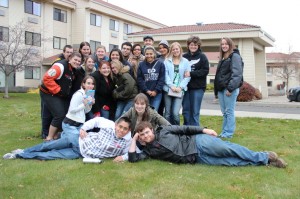 The world is a mixture of diversity and commonalities in a giant global community. In Residence Life, we realize and value the importance of that balance. We would be missing out on half the equation if we only positively valued the things that we have in common. Those things that are different about us help us grow and learn as we interact with each other.
Residence Life actively supports and pursues diversity as a part of our residential community. Differences challenge our preconceived notions. We believe that as a community, formed under the umbrella of higher education, challenging and examining these notions is one of our chief responsibilities. We believe that for this environment of open dialogue and exchange to occur within a diverse community, there must be a common notion of respect in place. To that end, we have a zero-tolerance policy for any type of discrimination, hate act or prejudicial behavior of any kind.
In our student body, there are over 25 countries of the world represented and students from over 40 different states in the U.S. The EOU student body is composed of students from a multiplicity of belief systems, ethnic backgrounds, sexual orientations, socio-economic environments and cultures worldwide. The residential community at EOU is not a melting pot for diversity, but rather a mosaic of inquiry and celebration where growth and understanding are the end goals.