On-Campus Students
Appointments & Drop-In Tutoring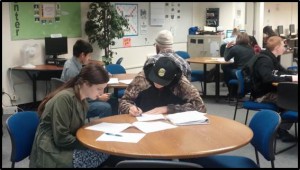 For on-campus students only
First-time users should open the link "Click here to register." Fill out all required fields, marked with asterisks (*). (Use an eou.edu email address and enter your complete Student Identification Number, beginning with 910.)
Log in and select the current Writing Center schedule. (Other schedules may be available in the drop-down box.)
Click on "Limit to" to view tutors' writing specializations, such as APA, Biology, MLA, and many other areas. Select a day, time, and tutor with whom you want to meet, and fill out the "New Reservation" window.
Appointments are scheduled on the half-hour and are set for 30 minute session. Second language writers and other students who may need extra help may schedule two back-to-back sessions.
Email notifications are generated by the schedule system when you make, change, or cancel an appointment and to remind you about your upcoming appointment. If you need to change or cancel your appointment, log in to the schedule, click on your appointment block, and modify it up until 60 minutes before the start of the session.
If you need help with scheduling or to cancel an appointment less than 60 minutes before it is scheduled, please call the Student Desk at 541-962-3834.
Res Life Tutoring
The Writing Center and Res Life are working together to provide tutoring, for residents only, in North, Daugherty, and Alikut Halls. Check your hall schedule to find out when to look for a Writing Tutor in your hall.
Grammar Workshop
The Writing Center is also working with the Multicultural Center to provide a Grammar Tutorial each week. Multicultural and International students are especially invited, and anyone working to improve written grammar is welcome. Blue Slips will not be issued at the Grammar Workshop.

Where: Multicultural Center Computer Lab (Hoke)
When: Wednesdays, 4-5 p.m.
New in Fall 2015! Daytime Drop-In Tutoring on Monday-Friday from 10 a.m. to 2 p.m.
Writing tutors are available during the academic school year to work with students on most Sunday – Thursday evenings from 7 – 9 p.m.in the Writing Center. No appointments are necessary. Sign in at the Student Desk and wait for your name to be called.
Drop-In Policies
A student writer may cycle through the drop-in tutoring line no more than two times per day.
Tutorials are limited to 15 minutes or less when a waiting line forms.
A student must work with a tutor at least 15 minutes in order to receive a Blue Slip.
No more than one (1) Blue Slip per day can be received during Drop-In Tutoring.