Wrapping up the season right
Soccer team wraps up season with holiday service project
Dec. 21, 2018 LA GRANDE, Ore. –  Children around the world will receive gifts from Eastern Oregon University's men's soccer team this year.
After their competitive season came to a close last month, student-athletes from the team met with a local representative of Operation Christmas Child, and learned how to shop for, pack and wrap items to be sent to communities in need. Team members filled 14 shoeboxes with toys, hygiene items, school supplies, and other gifts to send to needy kids around the world.
Brittany Hargrove, who has been involved with Samaritan's Purse and its Operation Christmas Child (OCC) project since she was very young, spent an afternoon introducing the program to student-athletes and coach Zach Mills.
"[Hargrove] led an activity where the guys had to show off their best wrapping skills — it wasn't pretty, but it got the job done," Mills said. "Then she left us with all the materials and the guys grouped up and went to work. Some of the guys knew exactly what they would fill the boxes with, but some of them took a while to figure it out because they wanted the gifts to be just perfect."
Sophomore Kaleb Rainsberry of Kennewick, Wash., took particular interest in the service project. He said his family has participated in OCC since he can remember. He got in touch with Hargrove, and proposed the idea to his coach. She met with the team to drop off specially suited gift boxes and give advice about what types of items to include.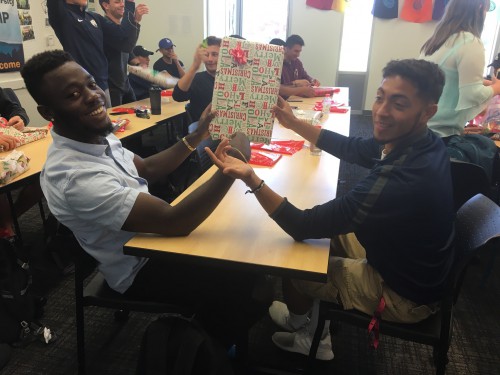 Rainsberry said the gift wrapping challenge she gave them got he and his teammates into the spirit of the season.
"She had us partner up with somebody and then wrap a shoebox with wrapping paper while we had one of our hands tied to the other's," he said. "It was quite challenging, but it brought the competitiveness out of all the guys and it was funny to watch."
All in all, Rainsberry estimated that each of his teammates spent a couple of hours on the project.
"I think that it just shows our community that we as a team and school care," he said. "It's something that others can rally behind and participate in themselves."
This was the first time EOU men's soccer participated in OCC, but the organization celebrated its 25th anniversary in 2018. Since 1993, the project has delivered more than 157 million shoebox gifts to children in 160 countries and territories.
"The most memorable thing was how some of the guys responded to the idea that their boxes were going to be shipped all across the world to kids who don't have as much," said Mills, who serves as head coach of the men's soccer team. "You could tell that some of them completely understood the feeling and wanted those children to enjoy the boxes."
Over the course of fall term, the men's soccer team racked up 34 community service hours among its 27 members. As a whole, EOU student-athletes volunteered for more than 1500 hours, averaging about 13 hours per student. Mills said giving back has a myriad of benefits.
"I believe it is so important for student-athletes to get involved in the community. It can bring the entire campus closer," Mills said. "The guys see this kind of opportunity as a way to help others, and I hope the community sees that students are always willing to help."
---
Spread the word.
---