TheAgency introduces students to real-world marketing
TheAgency@EOU provides students real-world marketing experience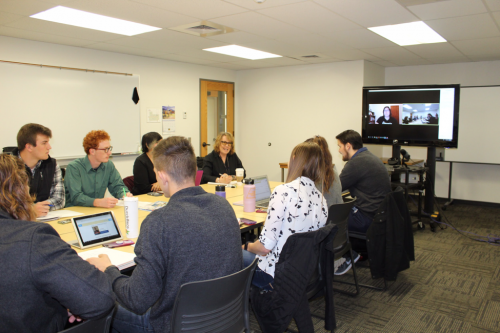 May 14, 2019 LA GRANDE, Ore. – During spring term, 20 students at Eastern Oregon University are learning about marketing and advertising in an innovative new course called TheAgency@EOU.
The student-led class develops marketing campaigns and strategies for local businesses. A social media team, public relations team, sales team, marketing team, and client relations team work collectively to benefit small business owners.
Students respond to their clients' needs like an actual marketing agency, providing real-world experience right on campus. Online students participate from across the country, and connect with peers through video chatting and email. Each student has created a professional title that matches their strong suits, and delegated leads and vice leads for each team build leadership and management experience.
Shari Carpenter, a marketing professor at EOU, introduced the new course this term and oversees students' work.
"Businesses in the area have been excited to take advantage of our services and have jumped at the opportunity to receive our expertise," said Briana Rosencranz, who leads the public relations team. "We're looking forward to expanding our services to a larger public market.
TheAgency@EOU aims to help community businesses flourish, while providing an opportunity for students to participate in all facets of marketing. Rosencranz said TheAgency@EOU hopes to be "an innovative means through which students gain confidence and competence for future success."
Learn more about this course from the College of Business at eou.edu/college-of-business/theagencyeou or follow the cohort's progress on Facebook, Instagram and Twitter.
---
Spread the word.
---