Testing center helps students finish GED
Finish GED now with assistance from EOU's testing center
News contact: Laura Hancock | University Advancement
541-962-3585 |
lhancock@eou.edu

Source contact: Cathy Trochlell
541-962-3076 |
ctrochlell@eou.edu
January 14, 2013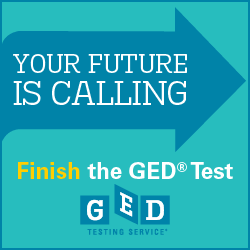 LA GRANDE, Ore. (EOU) ⎯ Students earning high school credentials have a new deadline to be aware of, and EOU's testing center is poised to help them meet it.
GED test-takers have until December 2013 to complete the current exam. Once the deadline arrives, the test – and scores – will expire, which means those who haven't finished must start over when the new GED exam is released Jan. 2, 2014.
"We're ready to help as many individuals as possible complete their GED before the current test expires," said Cathy Trochlell, continuing education coordinator at EOU.
Trochlell works closely with EOU's testing center, which offers regular access for students completing the computer-based GED. Anyone who started with the paper-based test can complete it at Blue Mountain Community College.
In addition to connecting students with the appropriate testing location, Trochlell also recommends preparation resources, conducting tutorials on how to navigate the computer-based system, and often making referrals to the Online GED Academy offered through BMCC.
"If you've been thinking about getting your GED, now is the time to call me," Trochlell said. "The new test will be more difficult and likely more expensive, so I want to help as many students as possible attain their credentials this calendar year."
Financial assistance is available for Union County residents seeking GED completion through EOU's testing center. Two local donations have provided testing scholarships for 15 students in need. The Oregon Employers Council of Union County funded 10 individual scholarships, and Soroptomist International of La Grande donated funds for five scholarships.
There is also limited funding to provide scholarships for students who want to participate in the BMCC GED Online Academy. These scholarships are funded by the Carole L. Smutz GED Scholarship fund. 
For more information contact Trochlell at 541-962-3076 or visit www.eou.edu/conted.
---
Spread the word.
---