Teaching tech through Lego
Local students unlock computer science, engineering skills through Lego at EOU
Jan 8, 2018 La Grande, Ore. — Lego robots, programmed by teams of local young people, attempted to water plants, put out house fires, complete irrigation systems and replace broken pipes during the annual FIRST Lego League tournament at Eastern Oregon University last month.
More than a 100 participants, ages 9 to 14, compete in the tournament each year. They design robots using Lego bricks and program them to complete a series of tasks autonomously. Pre-determined challenges are assembled on special tables and mats, then the teams let their robots run – hoping to complete some or all of the assigned tasks in two-and-a-half minutes.
Computer science professor Richard Croft has been at the helm of EOU's tournament since its inaugural run in 2004.
"The programming part is cool because it's interacting with the physical world – solving visible problems rather than digital ones – and it feeds into a really important skill set for modern technology," Croft said.
Participants also build social and communication skills. The popular Robot Game is only one of four components each tournament includes. Teams also go head-to-head in Technical Judging, Project Judging and Core Values Judging. These categories feature a panel of professionals who evaluate students' abilities to communicate effectively, think critically and creatively, and work as a team to solve real-world problems.
This year's tournament centered on hydrodynamics, and every aspect of competition touched on water use. Students proposed solutions to water shortages, selected locations for a new water treatment facility, and designed their robots to address various water-associated tasks.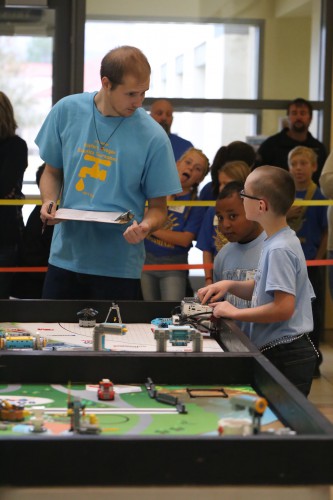 EOU professors from the College of Science, Technology, Mathematics & Health Science volunteered to judge presentations alongside local engineers and computer scientists. EOU students joined their professors in support of the tournament, helping set up, take down and referee the all-day event in Badgely Hall. Taylor Hunt, a junior studying mathematics at EOU, served as a referee for the second year in a row.
"A lot of different groups get involved to make the tournament happen," said Hunt, president of EOU's Math Club. "Without the volunteers, kids wouldn't have the opportunity to come to EOU and share their skills in a larger arena."
Staff and faculty members helped organize the tournament, including some who spent a Saturday morning assembling between 6,000 and 10,000 Lego bricks to construct the necessary challenges.
Despite the time and care required to host each year's event, the impact of these educational partnerships is immeasurable. Croft said some of his current and former students first entered the world of computer programming at one of EOU's Lego Robotics tournaments.
"It gets kids enthused about using technology, not just for entertainment, but to solve problems," he said.
Hunt agreed. She said growing up in a rural area sometimes meant being left on the periphery of interactive learning experiences because they were simply too far away. EOU serves as the educational, economic and cultural engine for the region, offering a host of resources for learners of all ages.
"It's important to have something local like this that offers big opportunities for the kids involved," she said. "It's something we can provide for kids from outlying areas to show them what college is about in a fun way."
Her goal to teach mathematics at the college level drives her to support the annual event as a volunteer.
"The reason I'm in the STEM program is to show kids that programming is fun and relevant to their lives," she said. "I love seeing it become something fun that they're excited to go do."
Learn more about EOU's computer science program at eou.edu/computer-science.
---
Spread the word.
---