Student recitals set for Dec. 5-6
Students share their original musical compositions, Dec. 5-6
Contact: John McKinnon | EOU Professor of Music
541-962-3592 | jmckinno@eou.edu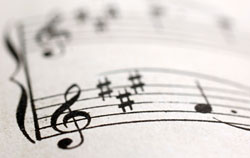 November 30, 2011
LA GRANDE, Ore. (EOU) - Eastern Oregon University students will present two short music recitals of original, creative work on Monday and Tuesday, Dec. 5-6.
Monday night's recital will feature digital compositions written and recorded in the electronic music lab. Tuesday will showcase original musical compositions for piano, violin, trumpet and small choir.
Both performances begin at 6 p.m. in Groth Recital Hall in Loso Hall. Admission is free and the audience will have the opportunity to ask composers questions about the works being presented during these informal events.
Holiday refreshments will be provided. For more information, call John McKinnon, professor of music, at 541-962-3592.
---
Spread the word.
---