EOU goes smoke & tobacco-free

EOU campus is ready to go smoke & tobacco-free Sept. 15
News contact: Laura Hancock | University Advancement
541-962-3585 | lhancock@eou.edu
Source contact: Carrie Lane | EOU Student Health Center Clinical Director
541-962-3524 | shc@eou.edu
May 21, 2013
LA GRANDE, Ore. (EOU) – The Student Health and Counseling Center at EOU is preparing now for a new smoke and tobacco-free policy going into effect this fall as a result of an executive order from Governor Kitzhaber.
All state-owned properties are required to implement similar policies by 2014. EOU's guidelines will be in place Sept. 15, 2013, putting the university ahead of the curve when students return for the start of classes Sept. 30.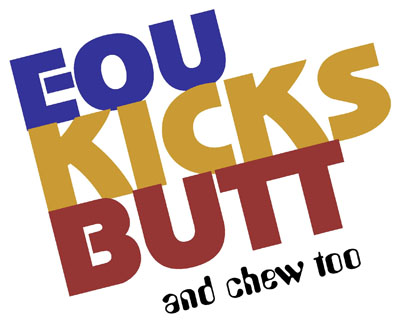 "Our focus is on education for the campus and community, to help build support among individuals who can carry the message back to fellow students, coworkers and others," said Carrie Lane, clinical director at the university's Student Health Center.
Ongoing activities promoting awareness are part of the outreach strategy, including observance of World No Tobacco Day in conjunction with EOU's Spring Fling on May 31.
Participants who relinquish a pack of cigarettes or a can of chew will receive a free turkey sandwich in celebration of giving up the habit "cold turkey." Educational materials on the effects of tobacco and tips on cessation will be available, along with information about the new policy.
The Center For Human Development, Inc. (CHD) Tobacco Prevention Education Program is funding some promotional materials to assist the effort.
"EOU Kicks Butt & Chew Too," "For The Health Of It," and "Tobacco Free Campus Fall 2013" are among slogans circulating on T-shirts, posters and other items.
EOU's athletic facilities and residence halls are already tobacco-free, and the policy will extend to include all campus buildings, property and grounds either controlled, leased or shared by the university. Smoking in private vehicles parked on university property will also be prohibited.
Cigarettes, cigars, pipes, smokeless tobacco, electronic cigarettes, betel nut and all other tobacco or related products will be prohibited from use. Violations will be handled in the same manner as with other EOU policies.
Smoking is currently permitted at a minimum distance of 10 feet from building entrances.
"We anticipate it will take time for the policy to become commonplace," Lane said. "Long-term, the benefits of being a tobacco-free campus are significant and we're increasing awareness and access to tobacco cessation resources for students and employees who want to quit."
Many of these resources, including counseling, are available at no additional cost to students who have paid the health service fee. More funding is being sought to provide a complete 12-week cessation program for students, Lane said.
The Student Health Center can also make referrals to the Oregon Tobacco Quit Line, MyLastDip.com and other community resources. University employees have access to assistance through state-provided health insurance and can self-refer to the same resources.
The 18-member task force assembled to develop and implement the new policy includes EOU faculty, staff, students and community partners with the Oregon State University Agriculture Program, Oregon Health & Science University School of Nursing and CHD also represented.
"I appreciate all of the work on this effort that has been done by our faculty, staff and students," said Bob Davies, EOU president. "They have worked tirelessly, not only in forwarding a policy, but also in communicating the goals and objectives of this effort and making sure everyone is aware of it and why it is being done."
OHSU nursing students Cody Crow and Kara Lehman were instrumental in drafting the first version of the policy, and two recent nursing graduates researched how other schools have transitioned to being tobacco-free.
The University of Oregon and Oregon State University have also adopted tobacco and/or smoke-free policies before the deadline, according to Smokefree Oregon.
For more information, including frequently asked questions visit www.eou.edu/tobaccofree or call 541-962-3524.
---
Spread the word.
---