Sealed with a Circle Dance
Sealing it with a Circle Dance
Nov. 7, 2018 LA GRANDE, Ore. –  All 60 attendees at the signing ceremony between Eastern Oregon University and the Confederated Tribes of the Umatilla Indian Reservation (CTUIR) left their seats for a traditional circle dance on Oct. 18.
The dance signifies friendship and collaboration, which made it appropriate as the two organizations had just sealed a new memorandum of agreement (MOA).
"The MOA marks a renewed commitment to collaboration and cooperation with CTUIR to enhance our relationship and strengthen support for Native American students," EOU President Tom Insko said at the event.
Fred Hill, Damien Totus, and Mildred Quaempts from CTUIR opened the ceremony with an invocation, followed by a drum circle from Nixyaawii Community School. EOU alumna Kathryn Quaempts Burke, a member of CTUIR, spoke before the official signing took place.
"The partnership is there now, the recognition of working with the CTUIR and departments is real and it is relevant," she said.
Lacy Karpilo, EOU Vice President for Student Affairs, said the renewed MOA supports current and future Native American students.
"Students are at the center of this MOA," Karpilo said. "It emphasizes successful transitions to college life and enhanced support services."
The agreement also aims to strengthen alumni networks among CTUIR members. Quaempts Burke said her experiences as an online and on-campus student at EOU was personally rewarding.
"I felt very connected to many of my professors and to the campus itself during my education," she said. "I was a full-time student often, as well as working full-time and managing a household."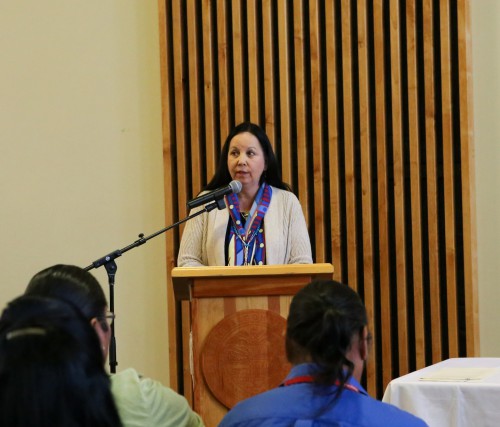 Quaempts Burke earned a degree in Liberal Studies, with minors in Anthropology/Sociology and Native American Studies. She has spent 15 years in human resource management, including the last three years as HR Director for the CTUIR.
"Being able to study Native American Law cases and materials on Federal Indian Law was one of my favorite subjects," she said.
Quaempts Burke expressed her own interpretations and memories of Native American tradition through her coursework and papers.
"Growing up on the Umatilla Indian Reservation, I was surrounded by a large family and history of the land and the people who were here for thousands of years," she said. "Oral history was very important in sharing and passing on cultural values and knowledge."
Native Americans make up about one percent of graduates in higher education nationwide. Quaempts Burke believes strongly in the value of education and calls herself a life-long learner.
"I am that one percent, and I want to stand up and encourage others to get their education," she said. "We need to honor our culture and our history by defining and sharing our story and helping to make our voices heard."
Quaempts Burke participated in a curriculum review held at EOU in September, where stakeholders and leaders from across the region shared their input on educational and occupational gaps in rural communities. Their feedback will help shape degree programs and course designs of the future.
"We have knowledge of the land base, the natural resources, and our concern for climate change impacting our land, water and wild game," Quaempts Burke said. "I am very proud to be an EOU alumna and look forward to continued opportunities to contribute to the success of tribal members in education opportunities."
---
Spread the word.
---