Rural poets come to EOU
Noted rural authors visit EOU
Jan. 22, 2018 LA GRANDE, Ore. –  The Carl and Sandra Ellston Ars Poetica Literary Lecture Series welcomes 2017 Oregon Book Award winner Joe Wilkins and prize-winning American poet Todd Davis. The two writers will read from their most recent works at 7:30 p.m., on Feb. 5 in Pierce Library at Eastern Oregon University. The event is free and open to the public.
Joe Wilkins' "When We Were Birds" received the Oregon Book Award in Poetry as well as the Miller Williams Poetry Prize, selected by Billy Collins. The Indiana Review praised the collection, saying, "The most striking component of it is its awareness of 'the whole world.' What is ordinary becomes transcendent. In places derelict and seemingly unexceptional, Wilkins compels us to recognize what is worth salvage, worth praise."
Wilkins' other books include the memoir "The Mountain and the Fathers: Growing Up in the Big Dry," which received the GLCA New Writers Award, and his debut novel "Fall Back Down When I Die."
Wilkins grew up in Eastern Montana, north of the Bull Mountains and attended Gonzaga University, where he earned a degree in computer engineering. He taught ninth-grade algebra in the Mississippi Delta with Teach For America. Wilkins earned his Master of Fine Arts in creative writing at the University of Idaho, where he studied with poet Robert Wrigley and memoirist Kim Barnes. He now resides in western Oregon with his family, and heads the creative writing program at Linfield College.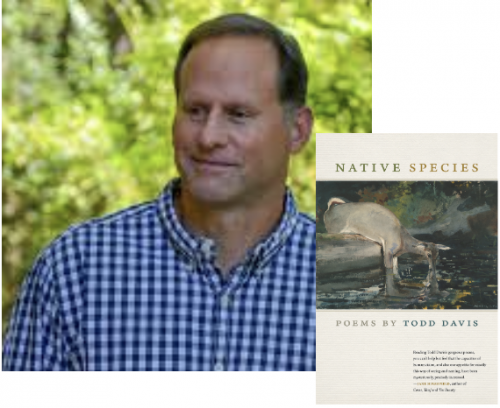 Todd F. Davis is best known for his five full-length collections of poetry, "Winterkill," "In the Kingdom of the Ditch," "The Least of These," "Some Heaven" and "Ripe." James Crews praised "Winterkill" in basalt, stating "[t]his elegiac yet celebratory impulse takes on greater weight when he describes his own family's joys and losses, though many of these poems argue that, if we pay deep attention, nature can instruct and reflect our lives." Crews admires Davis' poetry for its "rendering scenes from the natural world and ordinary life with a transcendent tenderness and clarity."
Davis has written other works, including the chapbook "Household of Water, Moon and Snow," and edited the anthologies "Fast Break to Line Break: Poets on the Art of Basketball," and "Making Poems: Forty Poems with Commentary by the Poets." His awards include the Gwendolyn Brooks Poetry Prize, the Chautauqua Editors Prize, the ForeWord Reviews Book of the Year Bronze Award, and he also has been nominated for the Pushcart Prize. His poetry has been published in journals and magazines such as American Poetry Review, Iowa Review, North American Review, Missouri Review, Gettysburg Review, Orion, West Branch, and Poetry.
Davis grew up in Indiana and now resides in Tipton, Penn., with his wife Shelly and their sons. He is a professor of environmental studies, creative writing and American literature at Pennsylvania State University's Altoona College.
Books by the authors will be available for purchase and signing after the reading. The Carl and Sandra Ellston Ars Poetica Literary Lecture Series brings renowned writers to campus through funding from the EOU Foundation.
---
Spread the word.
---