Meet the 2013 President's Scholar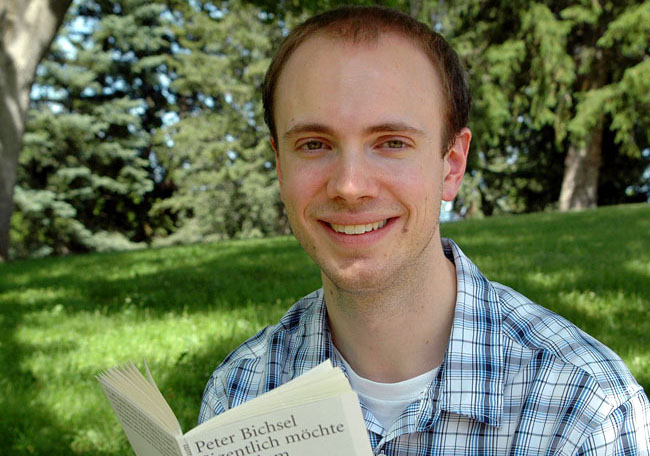 2013 President's Scholar & future educator Timmy Brown finds fulfillment with diverse set of degrees
News contact: Laura Hancock | University Advancement

541-962-3585 | 
lhancock@eou.edu
June 11, 2013
LA GRANDE, Ore. (EOU) - What do mathematics, computer science and English have in common? They've been taken by storm by Timmy Brown who is earning bachelor's degrees in all three fields from Eastern Oregon University this month.
Brown, of Summerville, is the 2013 EOU President's Scholar. He will be honored during the university's commencement activities June 14-15.
Five years ago when Brown submitted his sole college application, it was with a calculated sense of purpose. When he graduated at the top of his class at Imbler High School, he received a full-ride scholarship to attend his university of choice – EOU.
Intent on pursuing a degree in mathematics, Brown soon discovered his interests reached beyond numbers. By his second year of study he had settled on a combined math and computer science major, but was beginning to feel pulled in yet another direction. 
English became the third and final chapter in Brown's undergraduate educational exploration. 
"I didn't want to leave EOU with any regrets later on," he said. "I always liked numbers and computer science is something practical, but I love reading, too."
Having no regrets meant diving into two years of foreign language to satisfy the requirement for a bachelor's of arts in English. Brown chose to study German and has become absorbed by the work of Swiss writer Peter Bichsel. He recently completed English translations for 14 of the author's short stories for adults, a venture that was initially a bit of a whim.
"His stories are short and quirky, and I thought it would be a way to keep my language skills fresh over the summer," he said.
The more time Brown spent translating, the more he enjoyed the work. In the process he discovered the only other English version of the collection is out of print. Thus, his third and final capstone project was born.
"The idea that I could potentially help open up an author like Bichsel, who is quite popular in his own country, to the rest of the world is worthwhile and exciting," Brown said. 
Recent communication with a German publishing house points to the possibility of Brown's translations appearing in print, and he plans to finish the final seven stories in the collection this summer.
"It means a lot that the publisher didn't write me off because I'm only 22," Brown said. "I'm not fluent in German by any means, but I've learned so much more about the language."
Brown's classes were with Regina Braker, professor of German and associate dean at EOU. She was delighted when he first approached her about the translations, and over the course of the project, they spent many hours discussing Bichsel's writing.
"Timmy has been the best student by far through six terms of first and second-year German, yet his modest and unassuming manner supports others in their work in whatever way he can," Braker said. "He is a true scholar."
Brown has visited Germany, which is part of the reason he wanted to learn to speak the language. But the main attraction, he said, is his love of classical music and literature. 
"It's great to finally understand parts of a German opera, for instance, or interpret references from one of my favorite authors." 
Brown's musical pursuits also go beyond appreciation as a listener. He is the piano accompanist at St. Mary's Parish in Elgin, and took classes with Matt Cooper, professor of music at EOU. 
Audiences at Grande Ronde Symphony Orchestra performances may recognize him from delivering the pre-concert talks, an activity he has enjoyed for the past two years in addition to writing the program notes. He even taught an INTACT class at Eastern on the symphonies of Austrian composer Gustav Mahler. 
Ultimately, Brown draws the most enjoyment from playing his digital piano on his own terms – and time.
"No matter what is going on, I can always play piano," he said. "It's my most treasured hobby. Music does something for me that my academic majors can't. It captures emotions and is universal…it unites people." 
That human connection is what ultimately led to Brown's "proudest moment" at EOU: helping other students as a math tutor and serving as a study session leader for calculus classes. Tutoring is also what solidified his desire to teach. 
"I didn't originally want to follow the family path," Brown said. His parents are both faculty members at EOU, and his aunt was also a teacher.
"Then I realized helping people get to where they want to be is what I like doing best. I want my career to be worthwhile and include direct interaction with people, especially now that technology is so prevalent in our lives."
Brown submitted his application for graduate school to Portland State University with the same sense of purpose as when he applied to EOU. Not only was he accepted, he has been awarded an assistantship to complete his master's of science in teaching of mathematics.
But before he leaves home, he'll share another proud moment with his parents. All three will be on the field at Community Stadium for commencement June 15. His father Ray Brown is the recipient of EOU's Distinguished Teaching Faculty Award and will lead the procession of students with Kris Olson, recipient of the Distinguished Administrative Faculty Award. 
His mother Mary Brown will participate both as an adjunct faculty member and graduate. She is completing a bachelor's in mathematics this spring to accompany her master's in education, which she also earned from EOU.
While Brown said he is sad to leave Eastern Oregon, he is equally excited for the next challenge to begin.
"Personal interactions with my professors and peers have prepared me to pursue a meaningful career in what I hope will be an environment much like what I experienced here," he said. "I can't say that I am 'the best' candidate for President's Scholar, but I can say it is a reflection of my educational experience at EOU to be so honored."
---
Spread the word.
---